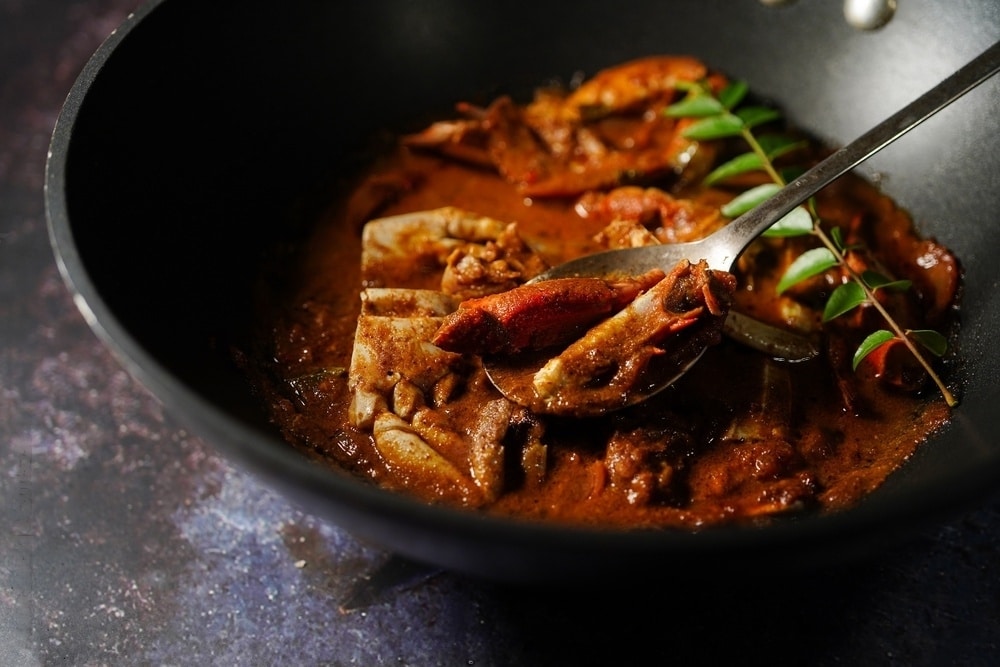 One of the best seafood dishes you can eat in India is the crab ghee roast. The food is predominantly spicy and delicious South Indian cuisine. It may be made by substituting chicken or eggs for crab while still utilising the same masala ingredients.
Popular in Mangalore, the crab ghee roast is a rich masala dish made with spices that have been roasted in ghee. It's a delicious fusion of flavours that is acidic, mildly sweet, and intensely spicy. While you are eating this dish, a delightful fresh ghee flavour and scent gently caress your taste receptors.
Table of Contents
Addition of ghee to the recipe
The recipe for crab ghee roast masala is a delightful and incredibly delicious dish. It is quick and simple to make, The scent of the crab goes nicely with the nutty aroma that pure ghee gives out. Ghee oil improves the taste of the recipe. Ghee functions as a flavour enhancer and a safe roasting oil.
Ghee is packed with nutrients. Fatty acids and fat-soluble vitamins are among the nutrients, therefore ghee provides an additional layer of health advantages.
The Popularity of ghee roast
One of Mangalore's most well-known dishes is the ghee roast, which was made famous by the bunts of Kundapur. Ghee Roast is now available in practically all Mangalorean restaurants. Crabs and prawns have a distinctive flavour. This recipe is perfect for the ones who enjoy seafood from Mangalore. A famous cuisine in Mangalore is called ghee roast, and there are several variations of it, including paneer ghee roast for vegetarians and ghee roasts with chicken, mutton, prawns, and crab. Red chiles, a considerable amount of ghee (clarified butter), and a spicy, acidic combination give the dish its distinctive flavour.
The meal is given tanginess and a deep, dark brown colour thanks to the use of tamarind paste. The delectable combination of tastes perfectly melds with the juicy crabs in this recipe. When the aroma of ghee and crab meat fills the air it is just irresistible.
Crab ghee roast is a perfect combination of dosa, parotta idli and rice.
Cleaning the crabs
One of the most time-consuming things to consume is the whole crab. With its pockets of sweet, soft meat, it's also one of the most satisfying. Everyone who enjoys seafood will agree that crab is fantastic seafood. The king of seafood, crab meat has a smooth, delicate, extraordinary sweetness. Crab cleaning will be simple if you have access to flowing water. Blanch the crab in boiling water for a few seconds. Place yourself close to a sink so you may clean the crab while there. Flip over, grasp firmly, and remove the apron and carapace (upper shell). Simply lift the carapace if the apron was broken off in the previous step. Hold firmly and gradually remove it. Wash and set aside the top shell or carapace if you intend to use it for serving. Rinse thoroughly to get rid of any shell debris. Otherwise, throw them away. The crab's gills and guts will be visible when the carapace has been removed. Rinse well to get the guts out. Remove each and every gill. Rinse once more to get rid of any last particles of garbage.
The cleaned-up crab is now ready to be sliced. Cut the crab in half with a hefty knife, then place it on a level surface (or a cutting board) (like a cleaver). Alternatively, you might use a pair of sturdy scissors to cut straight through the centre. Remove the claws now (the two big claws). Eliminate the swimming legs' ends. In order to make it simple to access the meat once it has been cooked, shatter the claws with a heavy spoon or the dull edge of a knife as a last touch.
Ingredients for the preparation of crab ghee roast
Crabs – 5 to 6 (medium-sized)
Red chilli powder – 1 tsp
Turmeric powder – ½ tsp
Curry leaves – 1 sprig
Ghee roast masala – 1 pack (60g)
Curd – 1 tbsp
Ghee – 4 to 5 tbsp
Tamarind – small lemon sized
Jaggery – 1 tsp
Salt
Method to prepare crab ghee roast recipe
First, Soak lemon-sized tamarind in warm water.
Take a large bowl and marinate the cleaned and sliced crab with 1 tbsp curd. 1 tsp red chilli powder, ½ tsp turmeric powder, and set aside for 15 to 20 minutes.
Heat 2 tbsp ghee in a deep-bottomed pan, as it heats add 1 pack of ghee roast masala (60g), and 1 sprig of curry leaves and fry on low flame until the ghee starts separating from the pan.
Add the tamarind juice, 1 tsp jaggery, and ½ tsp salt and mix well.
The crabs that have been marinating should now be added. Put a lid on the pan and cook it for 10 to 15 minutes over medium heat.
Add around 2 tbsp ghee and mix well.
Cook until the gravy thickens on medium flame.
Enjoy the hot crab ghee roast with rice or neer dosa.
Tips and tricks to prepare crab ghee roast
Add little or no water while cooking the crab ghee roast recipe.
Marination will help the crab pieces to absorb the masala.
Use fresh homemade ghee for authentic flavours.
Clean the crab thoroughly before using it in the recipe.
FAQS
How long do clean crabs last in the refrigerator?

Fresh crab meat keeps for three to five days in the refrigerator. The crab meat should be surrounded by ice for optimum storage. The vegetable or meat drawer of the refrigerator should be loaded with ice, where the crab flesh should be kept. Crabs that have been steaming can be preserved in the fridge for 5-7 days
How can you tell if the cooked crab is bad?

Crab flesh has gone bad and is no longer fit for ingestion if you notice the meat has a sour, decaying, or bitter scent.
How much ghee is used for the preparation of the crab ghee roast?

Around 4 to 5 tbsp of ghee is required to cook 4 to 5 crabs in a crab ghee roast masala.
Is crab ghee roast spicy?
Crab ghee roast has spicy, sweet and tangy flavours in the dish
Recipe Card
Crab Ghee Roast Recipe
The recipe for crab ghee roast masala is a delightful and incredibly delicious sea food delicacy
Ingredients
Ingredients for the preparation of crab ghee roast
5 to 6

medium-sized Crabs

1

tsp

Red chilli powder

½

tsp

Turmeric powder

1

sprig Curry leaves

1

pack

60g Ghee roast masala

1

tbsp

Curd

4 to 5

tbsp

Ghee

Small lemon sized Tamarind

1

tsp

Jaggery

Salt
Instructions
Method to prepare crab ghee roast recipe
First, Soak lemon-sized tamarind in warm water.

Take a large bowl and marinate the cleaned and sliced crab with 1 tbsp curd. 1 tsp red chilli powder, ½ tsp turmeric powder and set aside for 15 to 20 minutes.

Heat 2 tbsp ghee in a deep-bottomed pan, as it heats add 1 pack of ghee roast masala (60g), and 1 sprig curry leaves and fry on low flame, until the ghee starts separating from the pan.

Add the tamarind juice, 1 tsp jaggery, and ½ tsp salt and mix well.

The crabs that have been marinating should now be added. Put a lid on the pan and cook it for 10 to 15 minutes over medium heat.

Add around 2 tbsp ghee and mix well.

Cook until the gravy thickens on medium flame.

Enjoy the hot crab ghee roast with rice or neer dosa