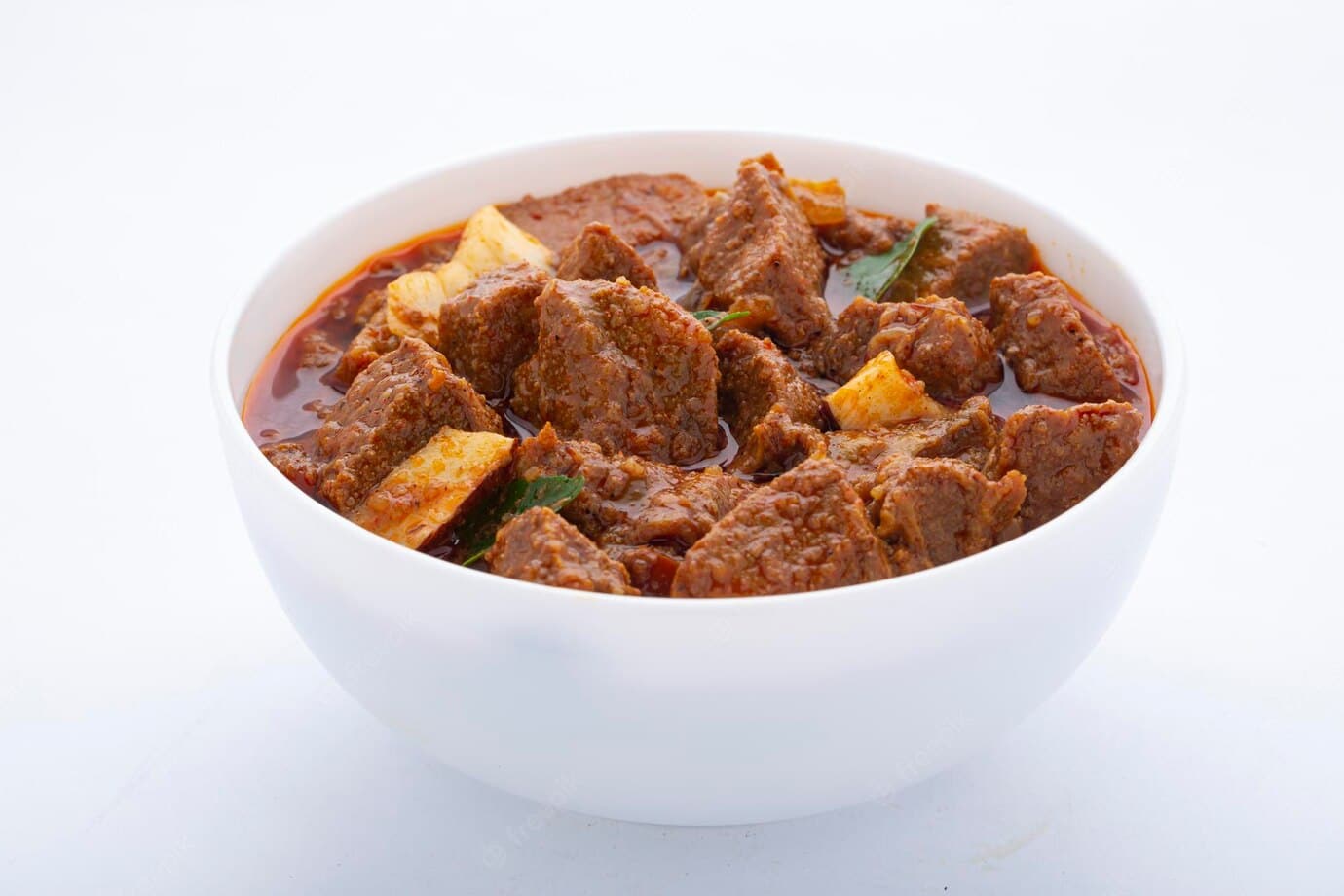 Table of Contents
About pork bafat recipe
A well-known and delicious pork bafat recipe is a signature dish of the Mangalore catholic community. This is a superb pork curry also called dukramas, prepared using pre-made bafat powder. This age-old Mangalorean recipe is simple to make and unbelievably delicious.
The pork bafat curry, like the majority of pork curry recipes, tastes best the next day and is simple to make with minimum ingredients. With basic ingredients and little preparation, the amazing pork curry is ready in no time. It has the ideal flavour combination and is quite delicious. Even novices can attempt it because it just requires a few simple ingredients and is quick to prepare. Because you can prepare pork curry in advance and save valuable time in the kitchen, it is the ideal dish to prepare for gatherings or parties.
Preparation time for pork bafat recipe
There is not many ingredients in the recipe for pork bafat curry. In spite of this, the Bafat Powder flavours in the curry make it tasty. Make this curry a day in advance to give the meat time to absorb the flavours of the spices. The recipe is ideal for gatherings or parties since you can prepare the pork curry a day in advance and it gets better the next day.
As the curry cools, it also has a tendency to thicken and make the gravy delicious and flavourful.
The meat is slow-cooked for 30 to 40 minutes to get the beautiful flavours in the dish. The meat can also be pressure cooked to save time. The curry has the right balance of sweet, spicy and tangy flavours. Soft and tender pork meat in this thick gravy tastes amazing with sannas, pav bun, bread or roti. The flavours in the gravy are irresistible and will make you want to have more. The recipe does not need any oil and is cooked with the juices of pork meat and spices, water is not added to the gravy. Rich, mouthwatering gravy with simple steps will make you want to give this recipe a try more often.
Ingredients for the pork bafat recipe
Pork – 1 kg cut and cleaned boneless pork meat is taken here, you can also take pork with bone. Cut the pork into even sizes.
Bafat Powder: you can prepare your own homemade bafat powder beforehand and try this recipe or utilise the pre-made Bafat Powder without hesitation. The ideal combination of flavorful spices and red chilli powder can be found in this dish. You can use it to prepare a wide range of meals because it is adaptable. Bafat powder is conveniently offered by any general store that sells spices and masalas. The bafat powder can also be used to prepare other meat and vegetable curries. Bafat powder is a mix of all basic spices which are carefully roasted and ground.
Onion – Use four to five medium onions, chopped into cubes. Onions are added in addition to the other ingredients. These onions soften while they cook, giving the Bafat Curry a slightly sweet flavour. Bringing the flavours into harmony and enhancing the flavour of the curry.
Green chillies, ginger, and garlic – Pork Bafat Curry features a bit more garlic than most pork recipes. You have the option of adding them whole or julienne-cutting them. Add some sliced green chillies and finely chopped ginger as well.
Spices – Several whole spices, including bay leaves, peppercorns, cinnamon sticks, and cloves, should be used along with turmeric powder. Bafat Powder offers the ideal combination of spices, however, just a small amount of the entire spices are added to the dish to improve the flavour. The spices can also be ground into powder and then added to get more fine and defined flavours in the pork bafat recipe.
Vinegar and Tamarind – To give the curry a tangy flavour, use the two ingredients: tamarind and vinegar. Adapt the vinegar to your preferences.
Ingredients for the preparation of pork bafat recipe
Chopped pork pieces – 1 kg
Roughly chopped onion – 4
Bafat powder – 3 tbsp
Turmeric powder – ½ tsp
Slit Garlic cloves – 15
Finely chopped ginger – 1 – inch
Slit green chillies – 2
Peppercorns – 1 tsp
Bay leaf – 1
Cloves – 4
Cinnamon stick – 1 -inch
Tamarind – small lemon sized
Vinegar – 4 tbsp
Salt
Method to prepare pork bafat recipe
Wash and drain 1 kg roughly chopped pork pieces.
Soak small lemon-sized tamarind in water and keep it aside.
In a deep-bottomed pan add 4 roughly chopped onion, 1-inch finely chopped ginger, 15 slit garlic cloves, 2 slit green chillies, 1 tsp peppercorns, 3 tbsp bafat powder, 1 tsp salt, ½ tsp turmeric powder.
Add soaked tamarind juice, and 4 tbsp vinegar.
Add the pork meat to the spice mix and mix well.
Place the vessel on the flame and cover and cook for 30 to 40 minutes on low flame.
Stir occasionally.
The masala and pork meat will release water, no need of adding water to the pork bafat recipe.
Cook until the pork gets cooked well.
Serve the delicious pork bafat with bread, sannas, roti or rice.
Tips and tricks for the preparation of pork bafat recipe
Depending on how spicy you like it, adjust the Pork Bafat powder.
Tamarind and vinegar can be adjusted to your preference.
For authentic flavours in the dish, do not add water while cooking.
The curry needs to be slow-cooked on low flame, alternatively, you can pressure cook it for 3 to 4 whistles on medium flame.
The whole spices can also be ground and added to the pork bafat recipe. 
FAQ
What is the meaning of Bafat?
A sort of masala called bafat, often spelled bafad or baffat, is used in Goan and Mangalorean cuisine, notably in catholic cooking recipes.
How long does the pork bafat recipe take to cook?
If you are slow cooking the pork bafat, it will take 30 to 40 minutes to cook.
Can you add water while cooking pork bafat?
To get the authentic flavours of the pork bafat, it is better to cook the curry without water.
What is the base for the pork bafat curry?
The pre-made bafat powder made of different spices forms the base for the curry.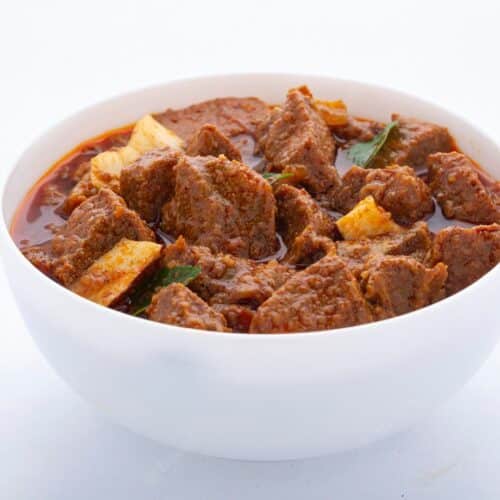 Spicy and Delicious Pork Bafat Recipe
Simple and delicious pork bafat recipe made using pre-made bafat powder is a popular Mangalore catholic cuisine
Ingredients
1

kg

Chopped pork pieces

4

no

Roughly chopped onion

3

tbsp

Bafat powder

½

tsp

Turmeric powder 

15

no

Slit Garlic cloves

1

inch

Finely chopped ginger

2

no

Slit green chillies

1

tsp

Peppercorns

1

no

Bay leaf

4

no

Cloves

1

inch

Cinnamon stick

1

no

Small lemon sized – Tamarind

4

tbsp

Vinegar

Salt
Instructions
Wash and drain 1 kg roughly chopped pork pieces

Soak small lemon-sized tamarind in water and keep it aside

In a deep-bottomed pan add 4 roughly chopped onion, 1-inch finely chopped ginger, 15 slit garlic cloves, 2 slit green chillies, 1 tsp peppercorns, 3 tbsp bafat powder, 1 tsp salt, ½ tsp turmeric powder

Add soaked tamarind juice, and 4 tbsp vinegar

Add the pork meat to the spice mix and mix well

Place the vessel on the flame and cover and cook for 30 to 40 minutes on low flame

The masala and pork meat will release water, no need of adding water to the pork bafat recipe

Cook until the pork gets cooked well

Serve the delicious pork bafat with bread, sannas, roti or rice