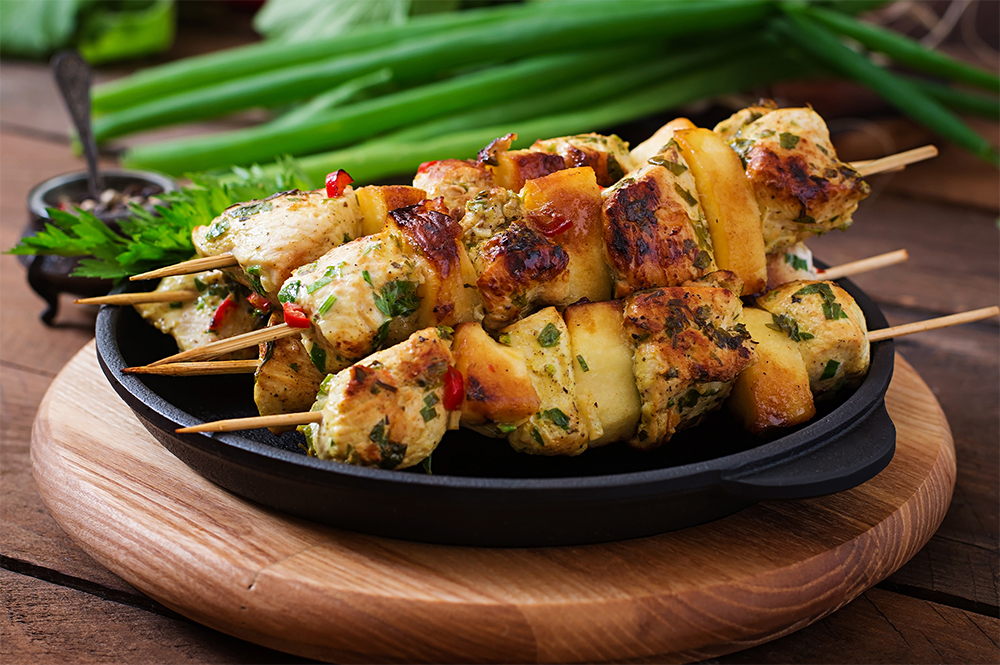 Chicken Reshmi Kabab is a delicate, silky Mughlai Chicken Kabab. You'll get moist, boneless chicken pieces that have been coated in cream cheese and pan-roasted until they are cooked through. Such little ingredients and such powerful flavors. This Chicken Malai Tikka recipe is highly coveted and cherished due to the meat's succulence and silky texture.
Chicken Reshmi Kabab Recipe
You will adore these incredibly juicy, tender, melt-in-your-mouth Chicken Reshmi Kabab recipe if you enjoy making and eating kababs or other skewered meats like this Mutton Seekh Kabab Recipe. Also known as Murgh Malai Tikka, Chicken Malai Tikka, and Chicken Malai Kabab.
The ingredients in today's Chicken Reshmi tikka recipe are its best feature. Yes, all you really need to make it is a handy skillet and the two main ingredients. You'll be finished in 30 minutes with irresistibly delicious chicken Reshmi Kababs that are perfectly juicy, tender, and melt in your mouth.
If you want, you can prepare a big batch and bake, air fry, or even grill the meats instead of pan-roasting them. For parties, potlucks, picnics, backyard barbecues, or to feed a large crowd, these Chicken Malai tikka make the ideal appetizer or snack.
What is Chicken Reshmi Kabab?
Reshmi = Silky
Boneless chicken pieces are marinated in a straightforward cheese marinade, skewered, and then baked, grilled, air-fried, or pan-roasted until just done. A Chicken Reshmi Kabab recipe stands out and is distinctive from other Kababs due to the silky texture of the tender, juicy meat.
Ingredients
200 gm boneless  chicken pieces

1/2 cup  yogurt 

2 tablespoon cashew nuts paste

2 tablespoon fresh cream

2 tablespoon grated cheese

1 tablespoon ginger-garlic paste

1 tablespoon green chili paste

1/2 teaspoon turmeric powder

1/2 teaspoon green cardamom powder

1/2 teaspoon ground cumin

1/3 teaspoon garam masala

3 tablespoon cooking oil

1 teaspoon salt or as per taste

Chopped coriander leaves for garnish
Instructions
Initial marinating
Chicken pieces should be cut into cube-sized pieces before being combined with one tablespoon of cooking oil, one-half of the ginger, garlic, and green chilli pastes, lemon juice, and salt.

After thoroughly combining everything, let it sit for 15 minutes.
A second marinade
Add the remaining ginger, garlic, and green chilli pastes, cumin, garam masala, fresh cream, grated cheese, green cardamom powder, turmeric powder, salt, lemon juice, and cooking oil to the hung curd in a mixing bowl.

To create a masala paste, whisk everything thoroughly. This is reshmi kabab masala with chicken.

The first batch of marinated chicken pieces has now been added to the masala paste.

Mix everything thoroughly to ensure that the masala paste is evenly distributed throughout the chicken pieces. To fully absorb the flavors, marinate them for 3 to 4 hours in the refrigerator.
Reshmi kabab preparation
Oven-fried Chicken Reshmi Kabab
Aluminum foil should be used to line a baking sheet as the oven is preheated to 240°C for at least 15 minutes.

When using wooden sticks, soak them in water for 30 minutes beforehand.

Bring the marinated chicken pieces now, and begin threading each piece onto a stick or skewer one at a time.

When threading the chicken pieces, leave a narrow space between each one.

Place the tray inside the oven and then place the skewer over it.

Once crisp and golden on all sides, cook them for 12 to 15 minutes.

With lemon wedges, onion slices,, and green chutney, remove and serve the hit.
Pan-fried Chicken Reshmi Kabab
1 tablespoon of cooking oil is heated in a pan for 30 seconds on high heat.

After that, turn the flame down to low and drain half the cooking oil.

After removing any extra marinade, add the chicken pieces one at a time to the pan.

Cook them for two minutes at a medium flame increase. Cook for an additional two minutes after flipping them.

Similarly, cook the chicken until both sides are crisp and the marinade and moisture have completely evaporated.

Serve Hot.

People Also Try: