Table of Contents
About egg biriyani
For all egg lovers, the egg biryani recipe is a must-try since it is guaranteed to elevate your love of eggs to entirely new heights. One of the most flavorful meals, the flavours of biriyani give the usually plain boiled eggs a distinctive personality.
A healthy one-pot dish called egg biryani will satisfy both your hunger and your palate. This meal, also referred to as Anda Biryani in India, is prepared by combining fragrant long-grain basmati rice, spiced hard-boiled eggs, perfectly caramelised onions, and special aromatic spices. Each bite will tantalise your senses.
A savoury rice dish called a biryani is prepared with meat and veggies. The eggs are cooked with rice and biryani masala in this one-pot easy egg biryani dish, giving the rice and eggs the most flavour. This basic biryani recipe, which is essential, may be modified to work with any recipe for veggie, paneer, or meat-based biryani. This biryani is usually made in a large pan on the stovetop, but it can also be made in a pressure cooker.
About biriyani
The name of the meal, originally from Persia, comes from the Persian terms "Biryan" and "Birinj," which respectively indicate "fried before cooking" and "rice."
In terms of cooking techniques and the usage of various meats or seasonings, biryani has significantly changed over time throughout India.
Variations in egg biriyani
These are only a handful of the several varieties of egg biryani that may be found in India and elsewhere.
Spicy Egg Biryani: A combination of hot masalas, including red chilli powder, garam masala, and coriander powder, is used to make this type of egg biryani.
Hyderabadi Egg Biryani: For this version of egg biryani, fragrant basmati rice, caramelised onions, and a combination of flavorful spices including saffron, cinnamon, and cloves are used in the cooking process.
Egg Biryani from South India: A coconut-based gravy and a mixture of spices, including cumin, coriander, and turmeric, are commonly used to make this type of egg biryani.
Egg Dum Biryani: In this type, the rice and the eggs are cooked together in a sealed pot called a "dum" to bring out the flavours of the herbs and spices.
Egg Fried Rice Biryani: To make this type of egg biryani, rice and eggs are stir-fried combined with veggies and a mixture of spices.
Ingredients for egg biriyani recipe
Eggs – 8
Green chillies – 2
Coriander leaves – ½ bunch
Mint leaves – 15 to 20
Basmati rice – 1 cup
Oil – 4 tbsp
Chopped onion – 2
Chopped tomatoes – 3
Ginger garlic paste – 2 tsp
Curd – 100g
Biriyani masala – 1 pack
Fried onions – ½ cup
Salt
Method to prepare egg biriyani
Boil 8 eggs, peel the shell and make gentle slits with a fork on the egg and keep it aside.
2. Grind 2 green chillies, ½ bunch of coriander leaves, and 15 to 20 mint leaves into a smooth paste and keep it aside.
3. Wash and drain 1 cup of basmati rice and keep it aside.
4. Boil water in a deep-bottomed vessel and cook rice to 90%, drain and keep it aside.
5. In a deep-bottomed vessel add 4 tbsp oil and as it heats add 2 chopped onions and fry well.
6. Fry well and add 3 chopped tomatoes, and 2 tsp ginger garlic paste and mix well.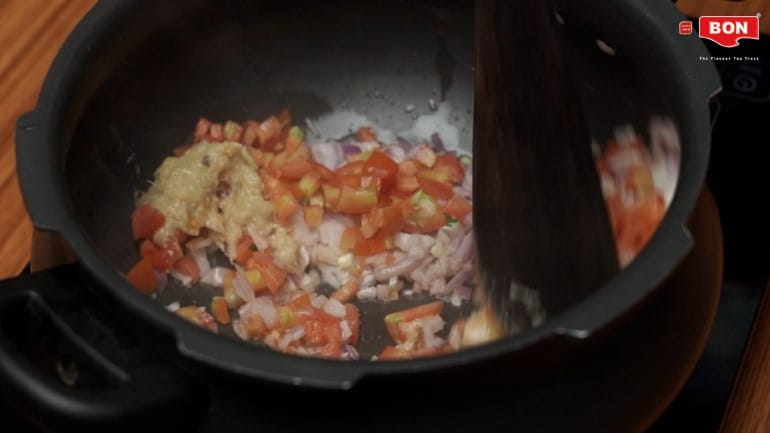 7. sauté the mixture till oil surfaces.
8. Add the ground paste and sauté for 2 to 3 minutes on medium flame.
9. Add the boiled eggs, and sauté them for at least 4 to 5 minutes on medium flame.
10. Add 100g curd and 150 ml water and mix well.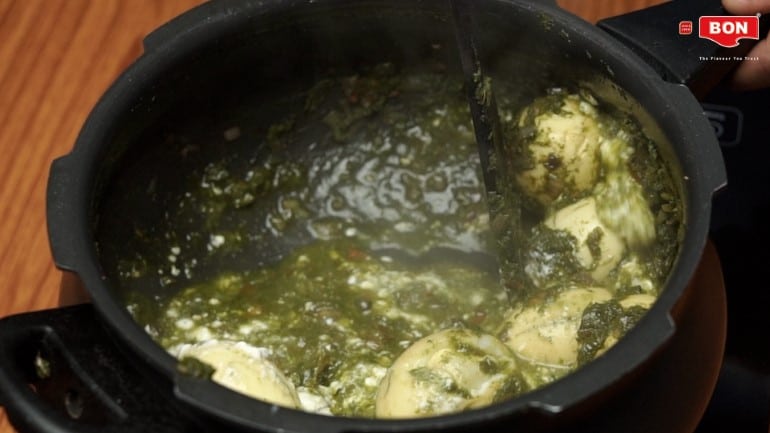 11. Add BON egg biriyani masala and cook well on medium flame.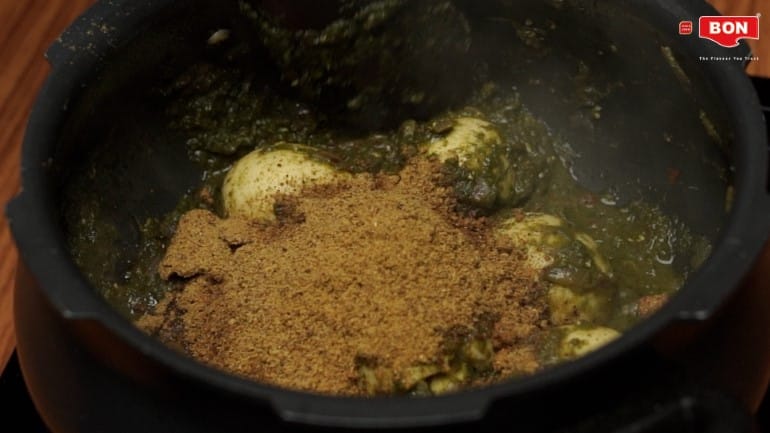 12. Cook till the oil surfaces, check for the salt and add salt as required.
13. Now gently, spread the cooked rice over the curry.
14. Drizzle ghee, chopped coriander, and mint leaves on the top.
15. Spread fried onions and dum the biriyani for 15 to 20 minutes till done.
16. Serve the delicious egg biriyani with raita.
Layering biriyani in a pressure cooker
You can layer the egg biriyani in a pressure cooker to reduce the cooking time.
Place two ladles of cooked rice, two tablespoons of cooked masala, two tablespoons of chopped cilantro and mint, and one or two fried eggs, and colour, if desired, in the same pressure cooker.
Repeat the procedure with two ladles of rice.
Add remaining cooked eggs, fried onion, masala, cilantro, and mint.
Add milk-soaked saffron, and drizzle ghee on the top.
Cook for 2 minutes on medium heat with the pressure cooker covered.
After waiting for five minutes, turn off the heat.
Make the biryani fluffy with a large fork (scoop and mix the rice and egg layers).
The biryani is now prepared for serving.
Tips and tricks for egg biriyani recipe
Put the eggs in cold water and boil them for 12 minutes to achieve the perfect hard boil. After draining the water, give the eggs 10 minutes to relax in room-temperature water. Peeling eggs will be considerably easier.
Adapt the spices as per your tastes.
The finest pairings for egg biryani are certain gravy chicken dishes like chicken korma, kadai chicken, and butter chicken. Salad and raita are optional additions.
Whisk the yoghurt in a medium bowl to produce the straightforward and delectable Tomato and Onion Raita. Mix well after adding the onions, tomatoes, salt, and sugar. cilantro is a good garnish.
When layering the biriyani, you can also add rose water for flavour.
To give the egg biriyani recipe its fragrant flavours, you can substitute desi ghee for the oil.
For more flavour and taste, the recipe can be amended to include coconut milk.
Ingredients to prepare vanilla custard recipe
Desserts like custard have a way of taking you completely by surprise. It has a great vanilla flavour and is rich, creamy, and sweet. It looks unassuming, which contributes to some of its attractiveness. It has been cherished throughout different countries and is undoubtedly a rich and divine treat.
Ingredients
2

tbsp

Custard powder

500

ml

Milk

2

tbsp

Mixed fruits

optional
Instructions
In a bowl mix 2 tbsp of DALE custard powder with 3 tbsp of milk taken from the 500ml milk and form a smooth paste.

In a saucepan heat 500ml milk.

As ithe milk begins to boil, add 3 tbsp of sugar or as per your taste and stir well, until the sugar completely dissolves.

Let the milk boil for a few minutes on medium flame.

Add the custard paste slowly into the boiling milk and stir well.

Continue stirring for 1 to 2 minutes on medium flame to low flame; avoid forming any lumps in the custard.

As you continue to stir gradually, the custard starts to thicken.

Keep the flame low to medium to avoid custard sticking to the pan.

Continue stirring until the custard thickens, keeping the flame on a simmer.

The sauce should be thick enough to coat the back of a spoon, so keep whisking and cooking.

Turn off the heat. Remove the pan from the flame and let it cool to room temperature.

Refrigerate the vanilla custard for a few hours.

This custard sauce can be used to prepare trifles, fruit custard, bread & butter pudding, and other sweets.

Enjoy the vanilla custard recipe.
Video
FAQ for Egg Biriyani
How is egg biriyani served?
Typically biriyani is served with simple raita, gravy, and pickle by the side.
What grain makes the greatest biriyani?
The ideal rice to use while making biriyani is basmati, but you can also use any other long-grain rice.
How can I make my biryani better?
The perfume of mint leaves enhances the flavour of the biryani by being sprinkled over the layers of rice,  Saffron steeped in 3 tablespoons of milk or water can be added to the rice to further improve the flavour.
Why Is my biryani dry?
Even dispersion of heat while steaming is necessary. By placing a large "tawa" under the pot, you might get even heat dispersion to the biriyani.