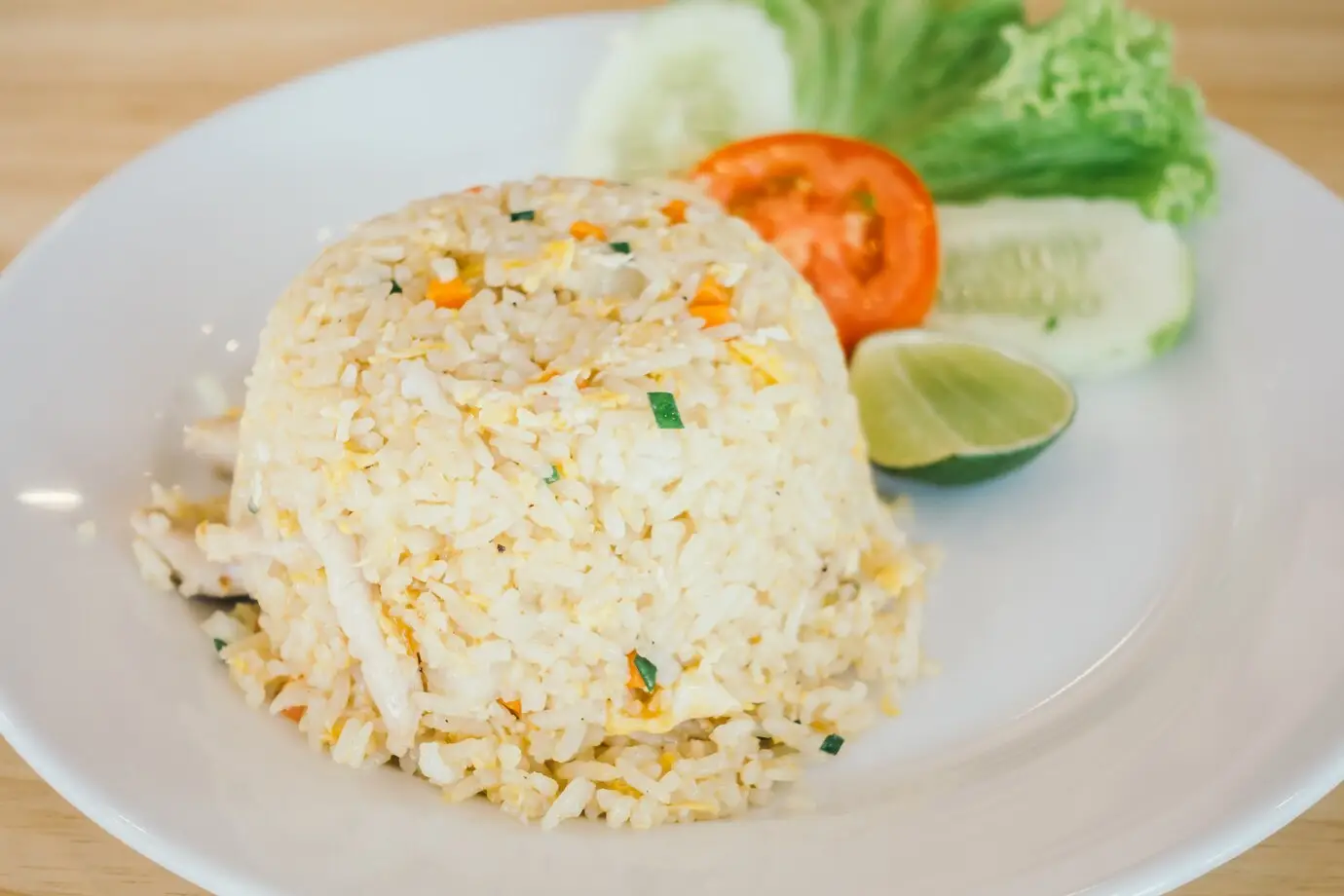 Table of Contents
About egg fried rice
A Famous Indo-Chinese rice dish called Egg Fried Rice is created with eggs and vegetables. This egg-fried rice undoubtedly tops the list of all Indo-Chinese recipes that are available in India.
In addition to being delicious, this rice is also popular in fast food restaurants around the nation because it just takes a few minutes to put everything together when you have cooked rice on hand.
The Chinese fried rice that Indians love so much isn't actually made in the Chinese style. It is an adaptation of Fried Rice from Indo-Chinese cuisine to suit Indian tastes.
If you have prepared, chopped vegetables, the recipe for restaurant egg fried rice just takes 5 minutes. The recipe for fried rice made in the street food style and the recipe for fried rice made in a restaurant are extremely dissimilar.
Restaurant-style egg fried rice  When served with tomato ketchup tastes delicious.
Although there are numerous fried rice recipes available online, this simple egg fried rice is a true classic of Chinese cuisine. The best part is that you may enhance it even more by adding any other ingredients. However, the dish's simplicity is what makes it so inviting and available to so many people.
Leftover rice for fried rice
Egg-fried rice is typically a dish that is prepared using the day's leftover cooked rice. It is not advisable to use freshly cooked rice because it is still moist and steamy and could produce mushy fried rice.
The ideal way to use day-old leftover rice is egg-fried rice. You can make a seriously excellent dish by adding some leftover vegetables from your fridge, a couple of sauces, and two to three eggs.
Indo-Chinese cuisine
In essence, it is Indo-Chinese, a cuisine unto itself that is neither Chinese nor Indian. It is a modified version made with more Indian components to accommodate the locals' liking for eating. Fusion Chinese is not very similar to traditional Chinese.
Genuine Chinese and Indian cuisine frequently uses ingredients like ginger, garlic, cumin, cinnamon, and cloves. But several components are unique to Chinese cuisine, such as soy sauce, fermented black beans, roasted sesame oil, and Sichuan pepper. Many of these components are currently used in modern Indian cooking.
History of Indo – Chinese cuisine
The introduction of Hakka foods by Chinese immigrants of Hakka heritage in Kolkata, where they settled, in the late 19th century marked the beginning of Chinese cuisine in India. They added genuine Indian flavours into their cookery since they were aware of Indian culture. As a sign of unification, they offered rice, noodles, chop suey, and soup during religious rites.
Soon after, a number of shacks and eateries popped up in Kolkata's Chinatown, and knowledge of the delicious stir-fried noodle dish known as chowmein smothered in soy sauce, red, green, and garlic chilli sauce—spread throughout the nation.
Restaurant owners began adding more Indian spices to these dishes to give them their own unique Indian twist. They did this to capitalize on the popularity of the supposedly western food while also satisfying local palates.
Ingredients for the egg fried rice recipe
Finely chopped ginger – 1 tsp
Finely chopped garlic – ½ tsp
Finely chopped spring onion white – ¼ cup
Finely chopped beans – ¾ cup
Finely chopped carrot – ¾ cup
Cooked rice – 3.5 cups
Dark soy sauce – 1.5 tbsp
Vinegar – 3 tsp
Pepper powder – ¾ tsp
Eggs – 3
Finely chopped spring onion( green) – ¼ cup
Oil – 2 tbsp
Salt
Method for delicious egg fried rice recipe
Heat a wok add 1 tbsp oil add 3 eggs, beat and scramble them. The scrambled eggs should be taken out of the skillet and set aside.
To the same wok add 1 tbsp oil, 1 tsp finely chopped ginger, ½ tsp garlic, ¼ cup of finely chopped spring onion white, and stir fry for a minute.
Now add ¾ cup of finely chopped beans, and ¾ cup of finely chopped carrot, and stir fry on high flame.
Add 3.5 cups cooked rice, 1.5 tbsp dark soy sauce, 3 tsp vinegar, ¾ tsp pepper powder, and salt as per taste, and mix well on high flame.
Sprinkle ¼ cup finely chopped spring onion green and add the scrambled eggs and mix well.
Tasty and mouthwatering egg-fried rice is ready to enjoy.
Tips and tricks for egg fried rice recipe
Vegetables get crunchy and have a superb flavour when they are cooked over a hot flame to 60% of their original thickness. They become overly hard if you fried them for too long.
For this dish, any short-grain white rice will do. When making fried rice, short-grain rice tastes considerably better than long-grain rice.
When making fried rice, it is better to utilize the leftover rice from the day before. This is due to the fact that rice that has spent the night in the refrigerator will be fluffier, less gluggy, or sticky fried rice since it has less moisture. Rice should be cooked, spread out on a sheet, and chilled for 30 minutes if you don't have any leftover rice.
Feel free to use your preferred vegetables in this recipe.
This recipe tastes wonderful with chicken, shrimp, or prawns. Simply prepare them beforehand and incorporate them into the mixture with the vegetables.
To give the vegetables that smoky flavour, sauté them at a high temperature.
You should adjust the soy sauce to your taste.
For a delicious flavour, use sesame oil.
Avoid overcooking the egg since it will become rubbery.
In order to assemble everything at once, cook the eggs and vegetables side by side.
FAQ's
How many flavours be added to fried rice?
When fried rice is seasoned with a few different ingredients, the flavour is at its optimum. The most important condiment to use with fried rice is soy sauce. Although there is a risk of going overboard, the sauce gives the rice a particular flavour. A small amount of each should be added, and the rice should be tasted frequently.
The ideal rice for fried rice is what?
For fried rice, long-grain rice works best because it has less starch in it. Rice made from long grain always has a fluffy, delicate texture. Other varieties of rice, such as short-grain rice, cannot be used to make fried rice. The fried rice would become clumpy and feel almost sticky.
Which oil works best for fried rice?
If you want an oil with a neutral flavour, use canola. If you desire a faintly nutty flavour, pick peanut oil. If you want your oil to give your fried rice a rich flavour, choose sesame or avocado oil depending on the flavour you want.
Is cold rice required for egg-fried rice?
In particular, if you're cooking it in a hot wok, cold rice is best. If you use warm rice from the same day, the heat from the wok will cause the rice to clump together or, worse, break down. Use a nonstick pan, if you are using warm rice.
Simple and Delicious Egg Fried Rice
A Famous Indo-Chinese rice dish called Egg Fried Rice is created with eggs and vegetables. This egg fried rice undoubtedly tops the list of all Indo-Chinese recipes that are available in India. In addition to being delicious, this rice is also popular in fast food restaurants around the nation.
Ingredients
1

tsp

Finely chopped ginger

½

tsp

Finely chopped garlic

¼

cup

Finely chopped spring onion white

¾

cup

Finely chopped beans

¾

cup

Finely chopped carrot 

3 ½

cup

Cooked rice

1 ½

cup

Dark soy sauce

3

tbsp

Vinegar  

¾

tsp

Pepper Powder

3

no

Eggs

¼

cup

Finely chopped spring onion( green)

2

tbsp

Oil

Salt
Instructions
Heat a wok add 1 tablespoon oil and 3 eggs, then beat and scramble them

Remove the scrambled eggs from the skillet and place them aside

To the same wok add 1 tbsp oil, 1 tsp finely chopped ginger, 1/2 tsp minced garlic, and 1/4 cup of finely chopped spring onion white and stir-fried for one minute

Now stir-fry on high heat with 1/4 cup of finely chopped beans and 1/4 cup of finely chopped carrot

On a high burner, combine 3.5 cups cooked rice, 1.5 tbsp dark soy sauce, 3 tsp vinegar, 1/4 tsp pepper powder, and salt to taste

Sprinkle 1/4 cup of finely chopped green spring onions over the scrambled eggs, then combine well

The scrumptious and delicious egg-fried rice is ready