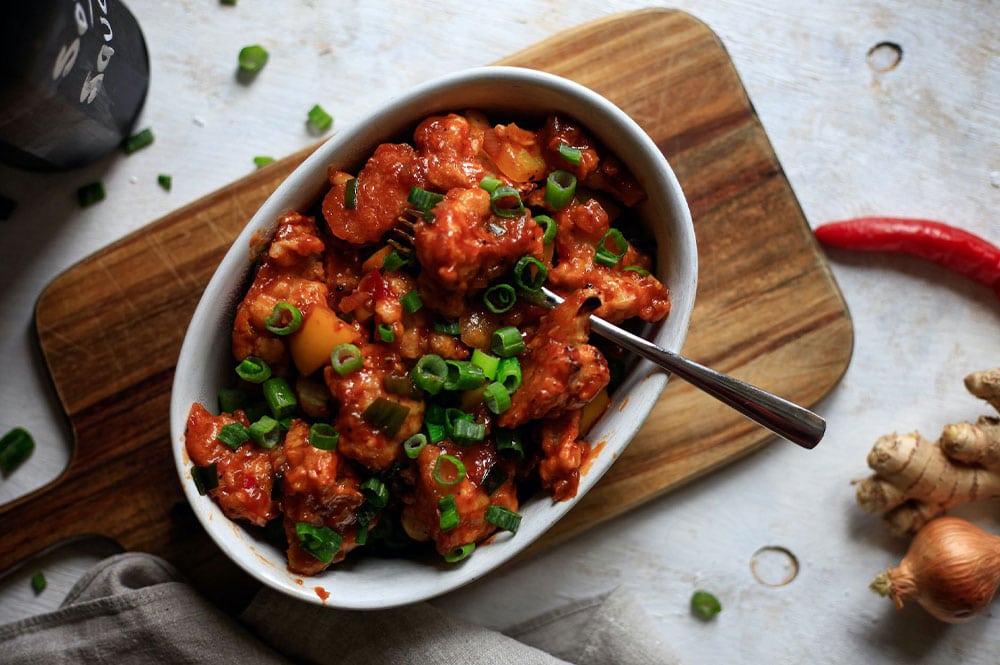 Ingredients Needed for gobi manchurian recipe :
for boiling:
4 cup water
½ tsp salt
20 florets of gobi/cauliflower
1 cup cold water
for batter:
¾ cup maida / plain flour
¼ cup cornflour
½ tsp. Kashmiri red chilli powder
½ tsp ginger garlic paste
¼ tsp salt
½ cup water
Oil for deep frying
for the manchurian sauce:
4 tsp oil
2 cloves of garlic (finely chopped).
1-inch of ginger (finely chopped)
1 green chilli (slit)
¼ onion (finely chopped)
¼ cup spring onion (chopped)
½ capsicum (cube)
2 tbsp tomato sauce
1 tsp chilli sauce
2 tsp vinegar
2 tsp soy sauce
1/4 tsp pepper (crushed)
1/4 tsp salt
1 tsp cornflour
¼ cup water
Cooking Procedures :
Gobi Fry :
Soak and boil cauliflower cut into small pieces in hot water for 5 minutes.
Mix well 20g ginger-garlic paste with a 100 gm BON Gobi Manchurian Masala.
Add the required quantity of water.
Deep fry the same after 30 minutes and keep aside.
Preparation of Gobi Manchurian :
Fry onion and garlic in ghee till golden brown.
Add ginger, tomato, green chilly, and capsicum and fry them too.
Stir well for 2 minutes and sprinkle Kashmiri chilli powder, salt, and soya sauce and mix well.
Add gobi and leftover gobi masala paste mix well by adding lemon juice.
Garnish with coriander leaves and tomato ketchup.
Serve hot.
Tips to make crispy Gobi Manchurian :
Crispiness: By adding breadcrumbs or cornflakes to the marinade will make Manchurian crispier.
Temperature: Cook at a perfect temperature. Too much flame can burn the cauliflower and harm its crispiness.