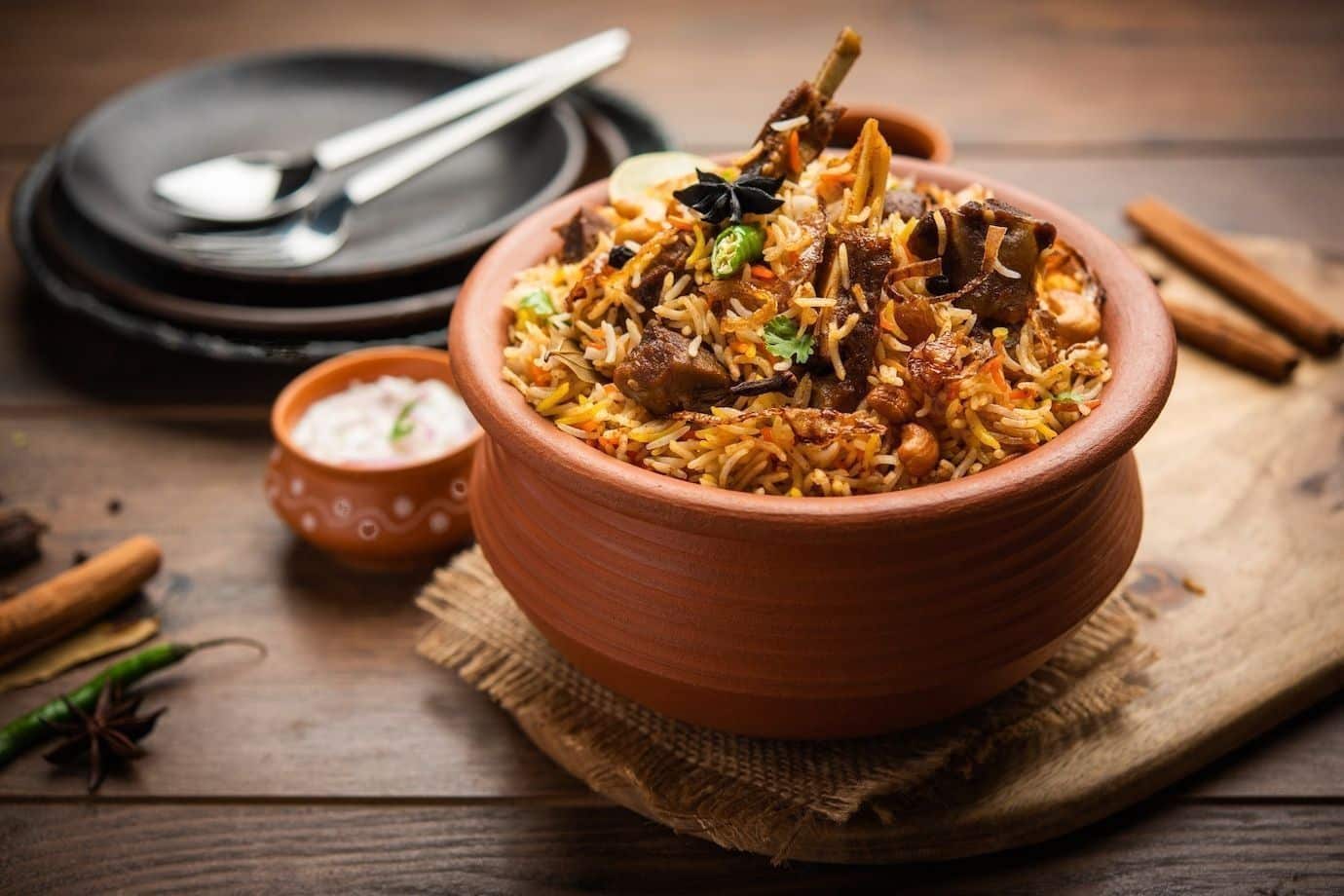 The timeless and delicious biryani hardly needs an introduction. The one dish from the diverse cuisine of India that all Indians appreciate is the delectable biryani. One is overrun with options when it comes to sampling this concoction of flavours because regional and hyperlocal differences have given rise to distinctive sorts of biryanis. Even though it appears to be an Indian dish, it actually has foreign origins. The name "biriyani" is derived from the Persian words "birian," which means "fried before cooking," and "birinj," which means rice. Although there are many theories regarding how biryani got to India, it is commonly accepted that the dish originated in West Asia. Let's get started with Mutton Biriyani.
Table of Contents
How to Prepare an Ideal and Delicious Biriyani?
The perfect biryani requires a skilled approach and precisely measured ingredients. Biryani was customarily made using the dum pukht method which is slow breathing oven in Persian. In this method, the ingredients are packed into a pot and cooked slowly over charcoal, occasionally also from the top to allow the dum or steam to work its magic. The meat is allowed to tenderize in its own juices while flavoring the rice in the saucepan because the edges are dough-sealed.
The choice of spices—some recipes call for just a handful, while others call for more than 15 different spices—is crucial to making a great biryani in addition to technique. The primary ingredient is frequently meat or chicken, though in certain
The main component of Biriyani 
Meat or chicken is frequently the major component, however, in some coastal variations, fish, prawns, and crabs are also used. The perfect biryani requires ingredients that have been properly weighed. Rose water, sweet edible ittar, and kewra water are also frequently used in biryani; this custom dates back to the Middle Ages.
A handi of biryani is a complete meal in and of itself when combined with rice, meat (or veggies), and spices. A handi of biryani is sufficient, whether it be for a formal event or a casual get-together with friends. This traditional meal is bursting with flavor, with each mouthful infused with fragrant spices. Fans of the meal vouch for its unique flavor. However, despite its many regional variations, most biryani aficionados are unaware of this important truth.
About the Mutton Biriyani Recipe
A flavorful mutton biriyani that will instantly impress your visitors. No one is ever able to resist the delicious mutton biriyani. Simple and delicious raita would be the perfect side dish to serve with biryani at any celebration or dinner party.
Ingredients for Mutton Biriyani Recipe 
Mutton Marination
For mutton biriyani preparation
Cumin seeds – ½ tsp
Bay Leaf – 2
Cloves – 4
Cinnamon – 1 inch
Cardamom Pods- 3
Thinly sliced onion – 1 large
Ginger Garlic Paste – ½ tsp
Roughly chopped tomatoes – 2 medium-sized
Chilli Powder – ½ tsp
Garam masala – ¼ tsp
Basmati Rice – 350 g
Milk – 1 tbsp
Saffron strands – 4 to 5
Fried onions – ¼ cup
Roughly chopped mint leaves – ¼ cup
Roughly chopped coriander leaves – ¼ cup
Ghee
Oil
Salt
Method for Mutton Biriyani Recipe
Method for mutton marination
Wash and clean 500g of mutton pieces, to this add ¼ cup curd and ¼ tsp turmeric powder, ½ tsp salt, and mix well and marinate for around 30 minutes.
Method for mutton biriyani preparation
In a large pressure cooker add 1 tbsp oil and 1 tbsp ghee as it heats add ½ tsp cumin seeds as it begins to splutter add 2 cloves, 1 bay leaf, 2 cardamom pods, ½ inch cinnamon, and fry well.
Now add 1 thinly sliced onion and fry until the onion turns brown, add ½ tsp ginger garlic paste and mix well.
Add 2 roughly chopped tomatoes and mix well.
Add the marinated mutton pieces, and 1 tsp salt, and mix well. Let the mutton cook for around 5 minutes on medium flame.
Add ½ tsp chilli powder, and ¼ tsp garam masala and mix well.
Add water as required and pressure cook for 4 o 5 whistles on medium flame until the mutton pieced gets cooked well.
Method for rice preparation for mutton biriyani
Wash 350g of basmati rice and soak for 30 minutes.
In a deep-bottomed vessel boil water and add 1 bay leaf, 2 cloves, 1 cardamom, ½ inch cinnamon, and 2 tsp salt.
When the water starts to boil add the drained rice and cook until it's half done.
Method for layering of mutton biriyani
In a small bowl take 1 tbsp warm milk and add 4 to 5 saffron strands and keep it aside.
In a large deep bottomed vessel add the prepared mutton masala sprinkled with fried onions, chopped coriander leaves, and chopped mint leaves.
Layer the cooked rice and spread evenly, drizzle ghee and saffron milk, and cover and seal the lid tightly.
Let it cook on low flame for 20 minutes.
Once it is done off the flame and let it cool for around 10 minutes.
The Delicious and mouthwatering mutton biryani recipe is ready to serve with some raita
Tips and tricks for Mutton Biriyani Recipe
The shoulder is the ideal type of meat to utilize in the mutton biriyani recipe. You can choose between using goat or lamb.
Store-bought fried onions can be used in place of brown onions in this recipe because they are less labor-intensive and more convenient to create.
The aromatic and flavourful taste and texture in the mutton biriyani come from the type of rice grain used. The distinctive flavor of mutton biriyani is derived from real basmati rice.
To prevent burning the mutton when giving dum to mutton biriyani, when using a standard pot without a heavy bottom, place it on a tava and then put the pot on a medium flame on the stove. The tava or griddle serves as the ideal heat source by putting some distance between the flame and the saucepan.
FAQ's
What kind of meat works well in mutton biryani?
Lamb or goat shoulder meat that is about the same size. When prepared properly, it yields gorgeous, soft chunks. To create mutton biryani, you can also use meat from the leg
How much time do you need to cook mutton?
Low and slow cooking the mutton on a stovetop allows all the liquids and fat to blend into the curry. It will take about 45 to 50 minutes for the luscious mutton to cook.
Which rice makes the best biryani?
The most popular type of rice for biriyani is basmati rice. It is the favored option for biryani because of the long grains, non-stickiness, aroma, soft texture, and fluffy, and separate grains when cooked
Why is mutton called goat in India?
Mutton is actually sheep meat, although for a variety of reasons it is referred described as goat meat in India. One explanation is that goats are more prevalent in India than sheep, hence both types of meat are referred to as mutton. Another justification is that sheep meat is thought to be less tasty than goat meat.
Recipe Card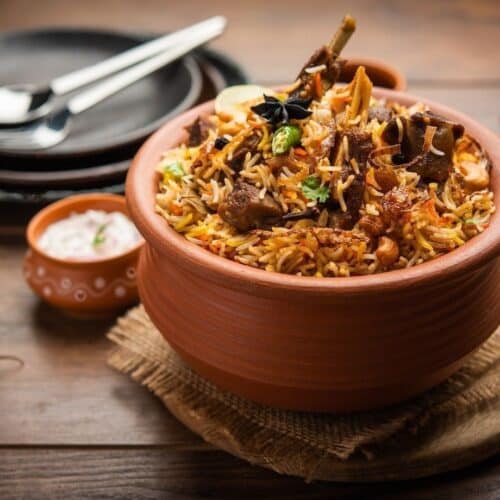 Mutton Biriyani Recipe
In this dish for mutton biryani, layers of mutton are cooked with saffron-infused milk in a "dum" technique. It contains a variety of flavorful spices and herbs. To make a superb biryani, technique is essential, but so is the choice of spices—some recipes ask for just a few, while others call for more than 15 different spices. Meat is typically the main component
Ingredients
Mutton Marination
500

g

Mutton Pieces

¼

cup

Curd

¼

tbsp

Turmeric Powder

½

tsp

Salt
For Mutton Biriyani
½

tsp

Cumin Seeds

2

no's

Bay Leaf

4

no's

Cloves

1

inch

Cinnamon

3

pods

Cardamom

1

large

Thinly Sliced Onion

½

tsp

Ginger Garlic Paste

2

medium

Roughly Chopped Tomatoes

½

tsp

Chilli Powder

¼

tsp

Garam Masala

350

g

Basmati Rice

1

tbsp

Milk

5

no's

Saffron Strands

¼

cup

Fried Onions

¼

cup

Roughly Chopped mint leaves

¼

cup

Roughly Chopped coriander leaves

¼

cup

Ghee

¼

cup

Oil

Salt
Instructions
Method for Mutton Biriyani Recipe
Mutton Marinating Technique
500g of pieces of cleaned and washed mutton are added along with ¼ cup of curd, ¼ teaspoon of turmeric, and ½ teaspoon of salt. The mixture is thoroughly mixed, and the mutton is left to marinade for around 30 minutes
The preparation process for mutton biriyani
In a sizable pressure cooker, combine 1 tablespoon oil, 1 tablespoon ghee, and ½ teaspoon cumin seeds. As they heat and start to sputter, add 2 cloves, 1 bay leaf, 2 cardamom pods, and ½ inch of cinnamon, and fry until fragrant

After adding 1 thinly sliced onion and cooking it until it becomes brown, add ½ tsp ginger garlic paste and mix well

2 tomatoes that have been roughly chopped should be added

Add the marinated mutton chunks and 1 teaspoon of salt and stir to combine. At a medium temperature, allow the mutton to cook for around five minutes

Mix thoroughly after  ½ tsp of garam masala and ¼ tsp of chilli powder

When necessary, add water and pressure cook the mutton pieces for 4 to 5 whistles on medium heat until they are well done
Rice preparation technique for mutton biriyani
Basmati rice 350 g is washed, and soaked for 30 minutes

Boiling water is added to a deep-bottomed pot along with 1 bay leaf, 2 cloves, 1 cardamom, ½ inch of cinnamon, and 2 tsp of salt

Add the drained rice to the boiling water and cook until the rice is halfway done
Mutton Biriyani Stacking Technique
Take 1 tablespoon of warm milk and add 4 to 5 saffron threads to a small bowl. Set the bowl aside

The prepared mutton masala should be added to a sizable, deep-bottomed pot along with fried onions, chopped coriander, and chopped mint leaves

Spread the cooked rice out equally in a layer, top with ghee and saffron milk, then cover tightly with the lid

Allow it to simmer for 20 minutes

When it is finished, turn off the flame and give it a 10-minute cooling period

The delectable mutton biryani recipe is prepared to be served with some raita