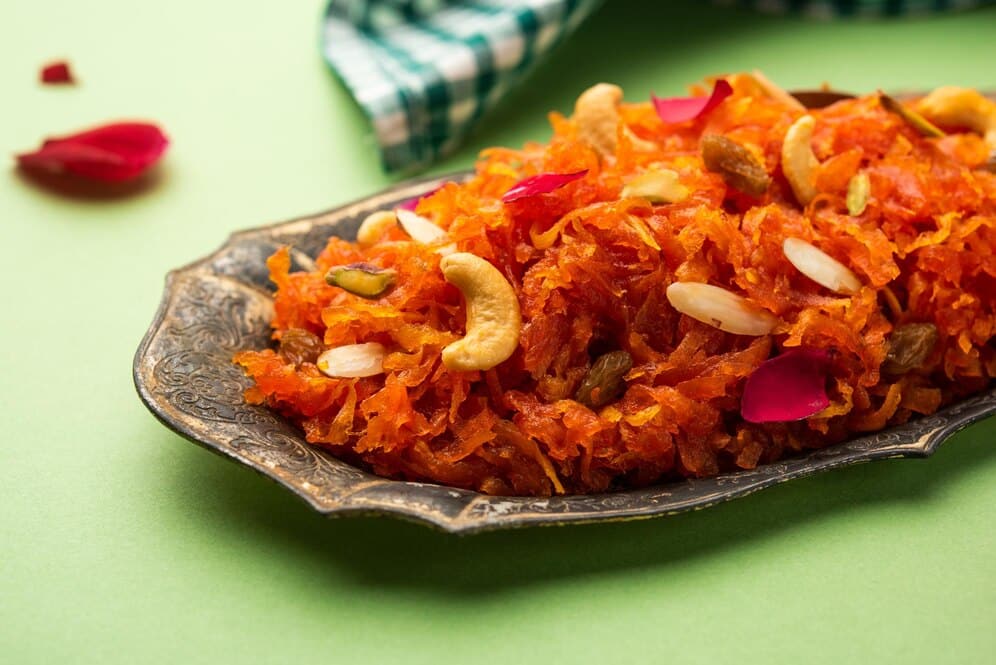 Carrot halwa or gajar halwa is a dessert from North India that is popular worldwide. Beautiful red carrots, which are considerably sweeter than orange carrots are in season during the winter in North India. Usually, carrot halwa or gajar halwa is made with these red carrots.
Carrots, milk, sugar, and ghee are the main ingredients of the traditional Indian dessert Gajar halwa. Rich and sweet, it is a classic winter treat, especially in North India.
Have you ever seen vibrant red or orange carrot pudding in Indian restaurants? You may have previously sampled this gajar ka halwa at an Indian restaurant buffet.
You can have gajar ka halwa by itself or warm it up and top it with a dollop of ice cream and pistachio slivers. It is wonderful!
Table of Contents
History of Carrot Halwa
In India, gajar halwa or carrot halwa is a beloved delicacy that is frequently offered during celebrations. Both adults and kids enjoy eating the dish.
The Mughal era saw the initial introduction of gajar halwa. Halwa from gajar, meaning pudding of carrot or Halwa of carrot. Although it is highly well-liked all across the world, this dessert is more typical of Punjab. Originally made with carrots, milk, and ghee, gajar halwa now contains a variety of other ingredients like khoya and condensed milk. The carrot halwa's mixture of cream, condensed milk, and khoya gives the pudding a creamy mava flavour.
Ingredients in carrot halwa
Carrots – Use red or orange fresh carrots, depending on what is available. Red carrots are typically used, and they offer the most realistic flavour. However, make use of what you can.
Milk: Milk gives this halwa its luscious, creamy texture. For the authentic flavours of carrot halwa use full cream milk.
Ghee: To give the halwa the ideal nutty flavour, add homemade or desi ghee.
Sugar: In this recipe, sugar is used as a sweetener. However, you can also use dates, jaggery, or condensed milk.
Nuts: Any type of nut can be used as a final garnish. Raisins can also be included.
Cardamom powder – Add cardamom powder for the ideal flavour and aroma.
Ingredients for carrot halwa
Grated carrots – 800g
Whole milk – 1 ltr
Ghee – 2 ½ tbsp
Sugar – 1 cup
Cardamom powder – ½ tsp
Chopped cashews – 1 tbsp
Chopped pistachios – 1 tbsp
Method for preparation of carrot halwa
Heat a thick-bottomed pan and add 1 ½ tbsp ghee, as it heats add 800g of grated carrots and sauté on medium flame.
The colour of the carrots will change now add 1 ltr of milk and mix well.
Boil for 10 minutes and stir occasionally.
Continue cooking the carrots in the milk until the milk reduces and the carrots get cooked well.
As the milk starts to thicken add 1 cup of sugar and mix well.
Keep stirring the halwa and do not allow the mixture to stick to the bottom of the pan.
Sugar starts dissolving in the halwa continue to cook for a few more minutes on medium flame until the ghee starts releasing from the pan.
Meanwhile, heat 1 tbsp of ghee in a pan and fry 1 tbsp of chopped cashews and 1 tbsp of chopped pistachios and keep it aside.
Meanwhile, carrots completely absorb the flavour of the milk ghee and sugar and start thickening.
At this point add the roasted nuts, and ½ tsp cardamom powder and mix well.
Delicious carrot halwa is ready to enjoy warm or cold.
Carrot Halwa in a pressure cooker
Carrots should be washed, peeled, and grated.
Pistachios and cashews should be chopped and set aside.
In a pressure cooker sauté chopped nuts and carrots in ghee.
Add milk and sugar to the pressure cooker, and mix thoroughly. To stop the milk from curdling under pressure, allow it to reach a simmer. Put the lid on and cook under pressure for 2 whistles.
Once the pressure drops, add cardamom powder, and stir the halwa occasionally while simmering it to cook out the liquid. It takes ten to fifteen minutes.
Tips and tricks for Carrot Halwa Recipe
Making carrot halwa or gajar halwa is really easy to do. However, it requires patience and steady stirring.
The main component of this dessert. Look for carrots that are juicy, vibrant orange or red, and have no brown spots on their skin. For this dish, medium-sized carrots are best because smaller ones are more difficult to shred and larger ones have a woody core.
Cooking the carrots in milk until the milk is completely absorbed yields the tastiest carrot halwa. Then, a wonderful combination of sugar, ghee, and cardamom yields the flavoured carrot pudding.
The carrots must next be grated. A decent processor or a hand grater are both options. Use the thicker grate, that is the main thing to keep in mind.
The halwa is overly mushy and has the wrong texture as a result of the fine grate.
Use the biggest grating blade if you're using a food processor to grate. It can be advisable to grate by hand if there is no alternative for massive grating.
Carrots should be cooked until all liquid has evaporated. You don't want the halwa to burn the pan's bottom, so stir regularly.
The halwa has since been given sugar. The sugar will cause water to be released, making the halwa somewhat liquid. Cook the halwa until it returns to dry.
Halwas are fantastic when served with ice cream. In India, carrot halwa is a well-liked dessert. In order to increase the halwa's richness, carrots and sweetened condensed milk are used in the recipe. You can omit the condensed milk when making carrot halwa if you choose.
Other easy sweet recipes to try – Coconut Burfi Recipe
FAQ'S
What kind of carrot is best for carrot halwa?
The ideal carrots to use for this halwa are red carrots, commonly known as Delhi carrots. But you may also try this halwa with ordinary or Ooty carrots.
What flavour does gajar halwa have?
Gajar halwa has a pudding-like flavour. The full-fat milk and sugar give it a creamy flavour, and when we sauté the halwa in the end, the milk solidifies into a chewy fudge that gives it a distinctive flavour.
Can we use jaggery to create this gajar halwa?
Yes, you can use the same amount of jaggery in this recipe in place of the sugar. Keep in mind that if you use jaggery, the halwa's colour may become somewhat deeper.
How to serve carrot halwa?
Warm carrot halwa is best served with vanilla ice cream when you are entertaining or have guests over. 
Recipe Card
Delicious Carrot Halwa Recipe
Carrot halwa or Gajar halwa is a dessert from North India that is popular worldwide. Beautiful red carrots, which are considerably sweeter than orange carrots are in season during the winter in North India. Carrots, milk, sugar, and ghee are the main ingredients of the traditional Indian dessert Gajar halwa.
Ingredients
800

g

Grated Carrots

1

Ltr

Whole Milk

2½

tbsp

Ghee

1

cup

Sugar

½

tsp

Cardamom powder

1

tbsp

Chopped Cashews

1

tbsp

Chopped Pistachios
Instructions
Heat 1 ½ tbsp of ghee and add 800g of grated carrots to a thick-bottomed skillet on a medium flame and sauté

As the color of the carrots changes, add 1 liter of milk and stir thoroughly for about 10 minutes

Once the milk has reduced and the carrots are well cooked, add 1 cup of sugar and thoroughly combine as the milk begins to thicken

Keep stirring the halwa to prevent it from sticking to the pan's bottom

Once the sugar in the halwa starts to dissolve, simmer it for a few more minutes at a medium temperature until the ghee begins to release from the pan

In the meantime, melt 1 tbsp of ghee in a skillet. Roast 1 tbsp of chopped cashews and 1 tbsp of chopped pistachios

Carrots begin thickening as they totally absorb the flavor of the milk, ghee, and sugar

At this time, combine the roasted nuts with ½  tsp cardamom powder

You can enjoy this delicious carrot halwa warm or cold