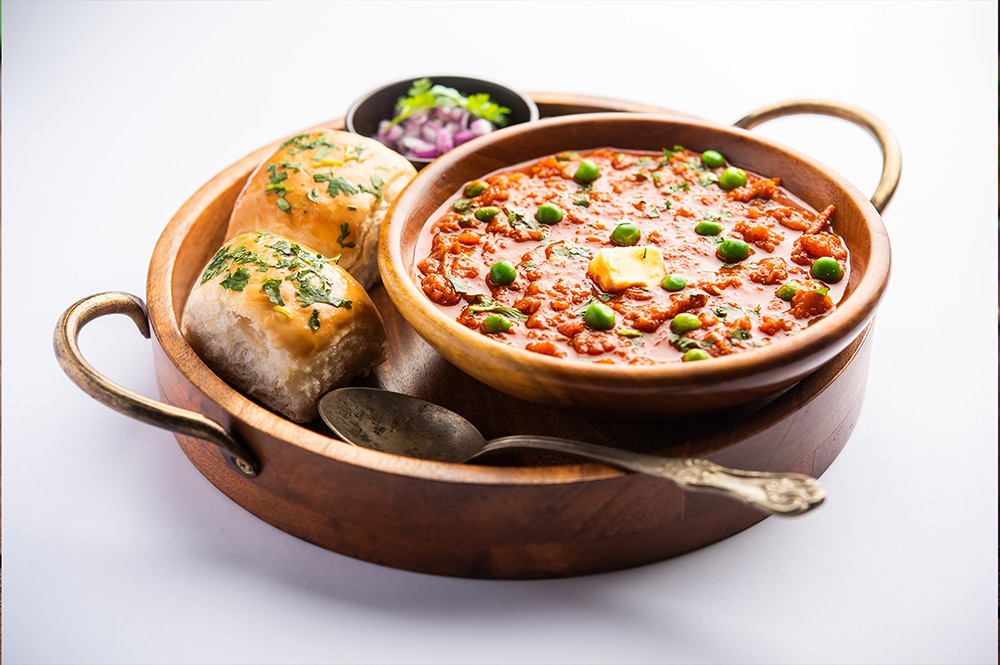 Delicious buttered pav topped with a dab of melted butter, a peppery bhaji, and chopped onions. Just thinking about it is enough to make foodies salivate. This delectable street food is well-known among people of all ages and is not just popular in India. Since the beginning of time, this delicious dish—made with potato salad and a variety of vegetables—has been a favorite treat in India. Are you conscious of the fact that pav bhaji is not an Indian dish? You got that exactly right. Despite being the most popular dish in Maharashtra, Pav Bhaji is not an Indian dish.
What exactly is pav bhaji? Where did the dish come from?
With the outbreak of the American Civil War (which lasted from 1861 to 1865), Indian mills saw a surge in demand for cotton supplies on a global scale, leading to sizable orders. The island city of Mumbai's textile mill workers were compelled to put in long hours to meet these demands. They hardly had time to eat because they were so busy.
In this case, a snack that was easy to prepare, enjoyable, and affordable was essential. This explains how pav bhaji got its start.
Pav Bhaji is a famous dish in India, particularly in Maharashtra (a state of India). It's a tasty blend of several veggies that have been prepared and mixed all together. It is one meal that is enjoyed by people of all ages and prepared in a variety of ways in various houses. Pav Bhaji is the greatest approach to combining all of the healthful veggies without sacrificing flavour.
The Gujarati pav bhaji, also known as Jain pav bhaji, is cooked without garlic and onions. Extra butter and garam spice are used in the Punjabi form of pav bhaji, giving it a unique flavour. It's served with a glass of buttermilk, which adds a Punjabi touch to the cuisine.
Ingredients of Pav Bhaji
1 tsp oil

4 cubes large butter, finely chopped

1 cup onion, chopped

1 tsp ginger-garlic paste

1/2 cup luke, chopped

1/2 cup capsicum, chopped

1 cup potatoes, chopped

1/2 cup beetroot, chopped

2 tsp salt

1 tsp chilli powder

3 tsp pav bhaji masala

1 tsp red chilli powder

1/2 cup tomato puree

1 cube butter

1 bunch of coriander leaves
For Pav:
Butter

Pav

Pav bhaji masala
Recipe Suggestions
To effortlessly mix the veggies while cooking in the sauce, cut and boil them coarsely.

Pav Bhaji Masala can be produced at home or purchased ready-made.

To begin, make butter for a much more authentic street flavour.

To make it more healthy, add veggies of your choosing.

Moreover, mash the baji well to get a smooth consistency.

When served hot and spicy, pav bhaji tastes fantastic.
Recipe of street style Pav Bhaji
Unless you want to make street-style pav bhaji at home, It's the simplest method.

3–4 big potatoes, 1 cup shredded cauliflower, 1⁄2 cup peas, and 1 cup sliced carrots are all you'll require.

Place everything in a pressure cooker and cook for 2 minutes.

Turn on the heat for the masala and begin by cooking 2 huge chopped onions in butter with tomato puree.

Add the cooked veggies, ginger, garlic, and green chilli paste to the pot.

Add turmeric, cumin powder, coriander powder, red chilli powder, salt, garam masala, and

pav bhaji masala

to the pan.

To make it the right consistency, add water and mash it for 8–10 minutes. Allow the veggies to simmer for another 15 minutes before serving your flavorful pav bhaji.

Serve with sliced onions, lemon, and a generous amount of butter.
Pav Bhaji is a popular Mumbai street snack that combines a variety of healthful veggies that you might not like if taken separately. You can add whichever veggies you want or leave out the ones you don't really like. Pav bhaji is a delightful recipe that allows youngsters to consume as many vegetables as they desire! A feast of potatoes, tomatoes, and green peas mixed together with spices and lemon and served on buttered buns.