Falooda is a well-known Indian and Pakistani dessert. Falooda recipe contains ingredients like vermicelli noodles, sweet basil seeds, strawberry flavor, milk, and ice cream are layered. Usually, the falooda is served in a tall glass, and a spoon or a straw is used to consume it.
Vermicelli noodles used in falooda are produced from cornflour or rice flour and boiled in boiling water until they are soft. The cooking is stopped and the noodles are cooled down by giving them a cold water rinse.
After being soaked in water until they are gelatinous, sweet basil seeds are added to the falooda. The dessert is sweetened with strawberry flavour, which also gives it a distinctly fruity flavour. A common addition to the falooda is milk. Milk is added to the falooda and frequently has vanilla or cardamom flavouring. The falooda is then garnished with a dollop of ice cream to give it a creamy, rich texture.
Individual preferences can be catered for when making falooda, and other ingredients can be added to improve the texture and flavour, such as chopped nuts, fresh fruit, or jelly. It is a delightful and cooling treat that is especially well-liked in the summer.
Table of Contents
Flavours of falooda
With so many textures, each mouthful seems like a party in the mouth thanks to the layers of different colours and textures that are not just attractive to the sight. In India, this recipe is a must-have throughout the summer whether it is prepared at home, in a restaurant, or on the street. This is a strawberry-flavoured falooda, the recipe calls for store-bought sweetened falooda mix. Falooda  has a wonderful flavour and pretty pink hue and are liked by all age groups.
It's okay to occasionally overindulge in faloodas, especially on a hot, muggy day. This delectable delicacy features chewy falooda seeds, soft noodles and jelly, melt-in-your-mouth ice cream, and crunchy nuts, among other contrasting flavours and textures. The wonderful and irresistible falooda drink or milkshake is the perfect summertime treat. Each delicious sip is a true taste of heaven!
Ingredients for a falooda recipe
Milk: For falooda, chilled, sweetened milk works best.
Sabja seeds –Also referred to as tukmaria or sabja seeds. After being immersed in water, these basil seeds grow and nearly double in size. On the inside, they are still black and appear transparent grey, forming a gel-like covering. Sabja seeds are popular in many summertime recipes because of their cooling effects. Also, they are believed to help lessen acidity and heartburn and are a wonderful source of minerals, fibre, and omega-3 fats.
Falooda noodles – These falooda noodles, which are made of cornflour or arrowroot, are distinct from normal vermicelli. They have no taste or smell and can have a translucent or yellow tint. They must be blanched in boiling water for a couple of minutes, then cooled before use. You could also use thin wheat or rice vermicelli as an alternative.
Nuts – Nuts are optional but lend a satisfying crunch. Use any nuts you like. This dish pairs particularly nicely with raisins, cashews, pistachios, and almonds.
Fruits – You can add chopped fruits as one of the layers to add a little nutritional value. Once more, this is not customary in Basic Falooda and is optional.
Icecream: You can prepare falooda without it. Nonetheless, feel free to explore. Vanilla ice cream goes particularly well with the strawberry-flavoured falooda.
Choose a tall glass for that restaurant, like Falooda Icecream, as this treat is assembled right in the serving glass.
Ingredients to prepare falooda recipe
Falooda mix – 1 pack
Water – 2 cups
Chilled milk – 500ml
Ice cream (any flavour) – optional
Method to prepare falooda recipe
1. Boil the contents of the small packet of DALE falooda mix in 2 cups of water.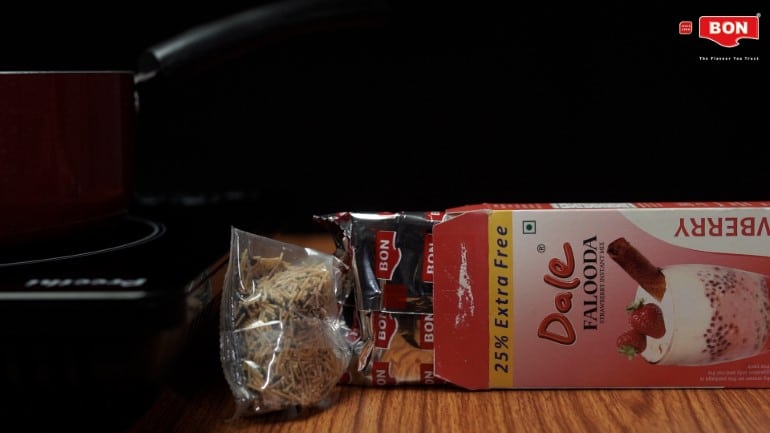 2. Boil for 5 minutes.
3. Once it is boiled well, keep it aside to let it cool.
4. Once cooled, dissolve the contents with 500ml of chilled milk.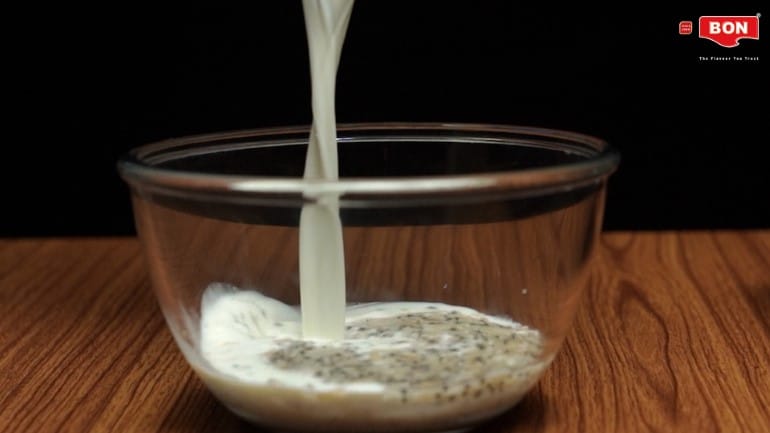 5. Add the big packet of DALE falooda mix and stir well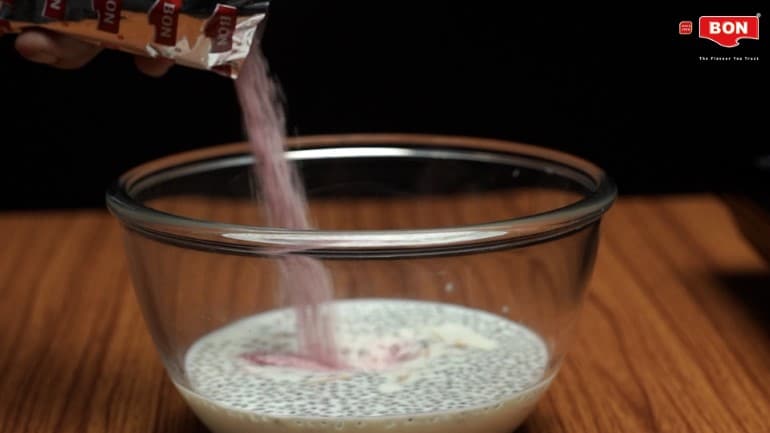 6. Mix well and serve chilled with ice cream. 
Tips and tricks to serve falooda
You can add ice cream of your choice for more refreshing and cooling taste.
You can add jelly for the additional sweet flavours. This is entirely up to you and is optional. Although adding jelly or jelly to falooda isn't really customary.
Serve the falooda dessert in layers right away.
You can serve falooda with jelly ice cream, nuts and fruits. Serve each element on its own so that you can mix and match to your preference.
The ideal way to consume this dessert beverage is with a large dessert spoon. Nevertheless, if you want to make it drinkable, use a smoothie straw and make sure the jelly chunks and nuts are finely diced.
All the ingredients for the layers can be prepared in advance and kept in storage.
Falooda is also available in different flavours like rose, pista, kesar etc.
Recipe Card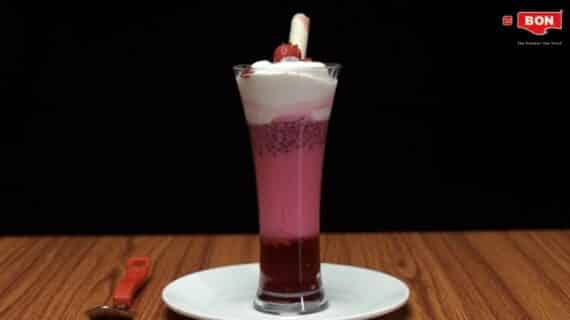 Refreshing Strawberry Falooda Recipe
Falooda is a delightful dessert beverage that is the ideal summertime treat. This cool recipe will satisfy all of your summertime sweet needs since it layers vermicelli, basil seeds, rose syrup, sweetened milk, ice cream, and dry fruits. When visitors arrive, you can quickly prepare this falooda using an instant mix
Ingredients
Ingredients to prepare falooda recipe
1

pack

Falooda mix

2

cups

Water

500

ml

Chilled milk

1

cup

Ice cream

any flavour – optional
Instructions
Method to prepare falooda recipe
Boil the contents of the small packet of DALE falooda mix in 2 cups of water.

Boil for 5 minutes.

Once it is boiled well, keep it aside to let it cool.

Once cooled, dissolve the contents of the big packet of DALE falooda in it and stir well.

Add ½ ltr chilled milk and stir well.

Mix well and serve chilled with ice cream.
Video
FAQ's
What does falooda taste like?
It has a milkshake-like consistency and sweetness, a lovely floral flavour, tangy jelly, chewy vermicelli, and crunchy basil seeds as well as contrasting textures. It's a decadent dessert beverage that's wonderfully cooling in the summer
Does falooda contain milk?
Sweet basil seeds, vermicelli, rose syrup, milk, and ice cream are used to make the popular ice cream delicacy known as falooda
Can you add nuts and fruits to falooda?
Falooda can be enjoyed with nuts and fruits, so that you get a nutty and fruity twist
What are the different flavours in falooda?
Falooda instant mix comes in a variety of flavours like strawberry, pista, kesar and rose