Table of Contents
From the adaptable Northern Indian cuisine, which has many diverse and delectable varieties, comes the recipe for Matar paneer, a famous Indian curry dish also called pamtar paneer ki sabzi in hindi prepared with green peas and Indian cottage cheese.
However, if you are hosting guests for a party or other special event, one might add a little cream to dress it up. Both adults and children adore Matar paneer ki sabzi because of its moderate spice flavour. This is a common North Indian dish that may be found on the menu of any Indian restaurant. Each establishment or household has its own variant of this dish
Ingredients used in Matar Paneer Recipe
Paneer – Indian cottage cheese known as paneer is incredibly soft, fresh, and unaged and is often manufactured from dairy milk.
Cashews: Cashews thicken the masala paste in a creamy manner.
Spices: For this matar paneer recipe or matar paneer ki sabzi, you'll need cumin seeds, turmeric powder, red chilli powder, and garam masala, cumin seeds, crushed kasoori methi.
Vegetables: Green peas, a few medium-sized ripe red tomatoes, a medium- or large-sized onion, and a few green chilies, chopped coriander leaves are required.
Ingredients for Matar Paneer Recipe
Cumin seeds – ¼ tsp
Turmeric powder – ¼ tsp
Kashmiri red chilli powder – ½ tsp
Coriander powder – ½ tsp
Cumin powder – ¼ tsp
Garam masala – ¼ tsp
Fresh paneer – 200g
Green peas – 1 cup
Finely chopped medium-sized tomatoes – 3
Medium sized thinly sliced onions – 2
Slit green chillies – 1
Ginger garlic paste – 1 tsp
Cashews – 6
Fresh cream – ½ tbsp
Crushed kasuri methi – ½ tsp
Chopped coriander leaves – 1 tbsp
Method for Matar Paneer ki Sabzi
1. Heat a pan, add 1 tbsp oil and fry 1 chopped onion.
2. Add 2 green chillies, 1inch ginger and 2 cloves of garlic.
3. Add 5 cashew nuts and 1 tbsp poppy seeds, 1 tsp cumin seeds, and 1 tsp BON Kasuri methi.
4. Add ½ cup of water.
5. Keep for 30 minutes and grind all the ingredients to a fine paste.
6. Heat 3 tbsp ghee and add 2 pureed tomatoes.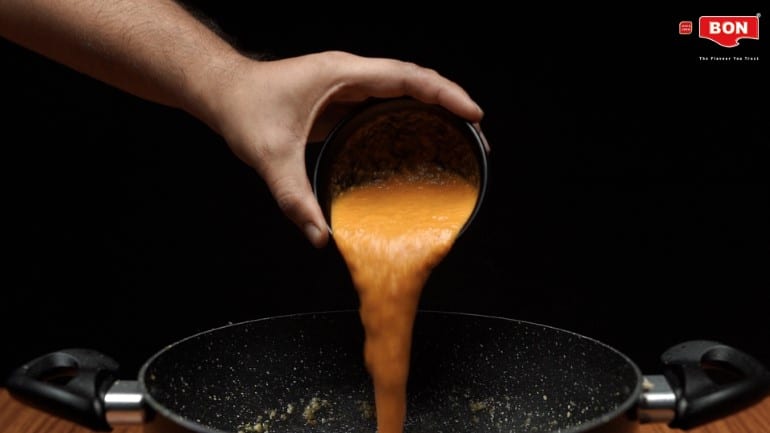 7. Add the ground masala to the pan and mix well.
8. Add 1 tsp BON chilli powder and ½ tsp BON turmeric powder.
9. Add 2 tsp BON kitchen king masala and mix well.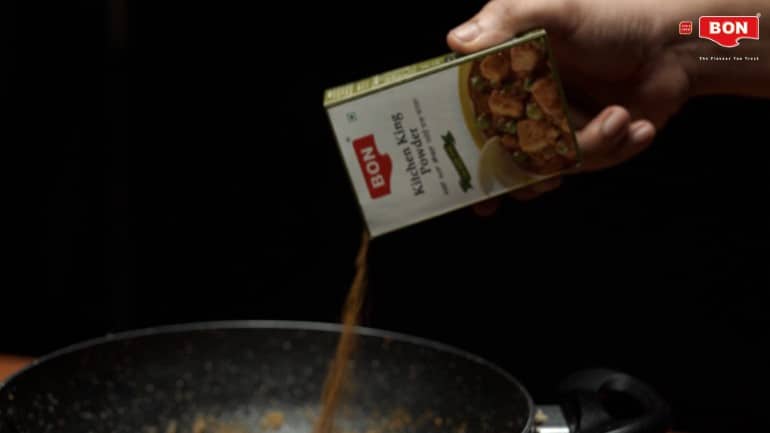 10. Add 1 cup of boiled green peas.
11. Cook until ghee separates.
12. Add 2 cup water and 250g fried paneer.
13. Cook for 5 minutes.
14. Garnish with coriander leaves and it's ready to serve.
Matar Paneer in Pressure Cooker
Heat the oil in a pressure cooker and add the cumin seeds.The cumin seeds should sputter after frying them.
Add the masala paste of onion and cashew and fry well.
Add 3 finely chopped tomatoes and spices like garam masala powder, red chilli powder, and all the ground spices together and mix well.
You may add cream or malai (clotted cream) at this time. For one minute, stir and sauté.
Add the green peas or matar after that. Combine once more.
Add some water and salt to taste.
Pressure cook for approximately 2 to 3 whistles, or 9 to 10 minutes, with the cooker tightly covered.
Open the pressure cooker's lid when the pressure naturally decreases.
If the curry seems thin, simmer it until the correct consistency is achieved. It has a middling consistency that is neither thick nor thin.
Add some water to the gravy if it seems thick, then boil for a few minutes.
Place the paneer cubes in. Until the paneer cubes are done, add fresh cream and crushed kasuri methi stir well.
After adding paneer, be careful not to overcook them as they will become dense and hard.
Serve matar paneer hot or warm with coriander leaves as a garnish.
Tips and tricks for Matar Paneer ki Sabzi
Try to use fresh homemade paneer to get the authentic matar paneer taste.
You might need to use extra of a certain spice to suit your taste preferences because spices come in a variety of grades and states of freshness.
In order to quickly prepare the matar paneer gravy the following day, grind or mix the masala paste and freeze it for a few days or refrigerate it overnight.
You can cook the matar paneer in ghee for a deeper variation.
For a vegan matar paneer, swap out the paneer for tofu.
All you need is a little patience for most Indian curries, especially those with onion-tomato gravy. Caramelize the onion and tomato mixture by cooking it slowly.
Paneer can be fried if desired. Avoid deep-frying it. It only needs to become slightly caramelised on the surface.
Paneer smells great after being fried. After frying, place the paneer in warm, gently salted water to make it even more tender. Another benefit of frying paneer is that it maintains its shape and doesn't break easily.
Don't overcook the peas if you want them to be nice and plump. Blanch the peas if you're using fresh seasonal ones. Water should be brought to a boil before fresh peas are added and peeled.
Use freshly ground spices for the greatest outcomes. Try to use fresh spices for the masala preparation.
Recipe Card
Flavourful Matar Paneer Recipe
From the adaptable Northern Indian cuisine, which has many diverse and delectable varieties, comes the recipe for matar paneer, a famous Indian curry dish also called as pamtar paneer ki sabzi in hindi prepared with green peas and Indian cottage cheese. This is a common North Indian dish that may be found on the menu of any Indian restaurant.
Ingredients
¼

tsp

Cumin Seeds

¼

tsp

Turmeric Powder

½

tsp

Kshmiri Red Chilli Powder

½

tsp

Coriander Powder

¼

tsp

Garam Masala

200

g

Fresh Paneer

1

cup

Green Peas

3

no

Finely Chopped Medium Sized Tomatoes

2

no

Medium Sized Thunly Sliced Onions

1

no

Slit Green Chilli

1

tsp

Ginger-Garlic Paste

6

no

Cashews

½

tbsp

Fresh Cream

½

tsp

Crushed Kasuri Methi

½

tbsp

Chopped Coriander Leaves
Instructions
2 medium-sized thinly-sliced onions, 6 cashews, and 1 tsp  ginger-garlic paste should be blended into a smooth paste in a blender

When oil is hot, add1/4 tsp. of cumin seeds, and when they begin to sputter, add the onion-cashew mixture and continue to cook until the paste turns brown

Mix thoroughly after adding one split green chilli and finely diced 3 tomatoes

Now, add 1 tsp salt, 1/4 tsp turmeric powder, 1/4 tsp garam masala, 1/2 tsp each of coriander and cumin powder, and sauté thoroughly

Stir in a cup of green peas

One cup of water has now been added, and it is being heated on medium flame

Gently stir in 200g of cubed paneer pieces

Cook for three to five minutes on a low flame

Now stir in 1/2 tbsp of fresh cream

Mix well after adding 1/2 tsp of crushed kasuri methi and 1 tbsp of minced coriander leaves

Rice or roti are both great with matar paneer ki sabzi
Video
FAQ's
How do you make matar paneer like in restaurants?
Use butter or ghee in place of oil.
Grind 7-8 cashews into a puree with the tomatoes. A rich and thick gravy is made possible by the cashews.
Add more heavy cream
How can vegans prepare matar paneer?
Please substitute some cashew paste for the heavy cream and tofu for the paneer
What ingredients are in paneer?
It can be made using raw, pasteurised, or reduced-fat milk as well as full, skim, or buffalo milk.A non-melting cheese is a paneer. Milk is curdled to make paneer
Describe matar paneer
In Hindi, matar paneer is also referred to as matar paneer, muttar paneer, and mutter paneer. It is a contemporary vegetarian North Indian dish made with paneer and peas in a tomato-based sauce that is flavoured with garam masala.