Table of Contents
About Medu vada recipe
In the majority of Indian restaurants, medu vada (ulundu vadai), is a traditional dish from South Indian cuisine, usually served with coconut chutney and vegetable sambar for breakfast. Urad dal (black gram lentils) and a few common spices, including cumin seeds, black peppercorns, curry leaves, and green chilies, are used to make this crunchy deep-fried snack.
These vadas come out fluffy on the inside and crispy on the outside. With minimum and basic ingredients at home and a bit of practice, medu vada is a very simple dish that can be prepared at home.
Origin of medu vada
Medu vada's name is derived from its place of origin,  a small town called Maddur in Karnataka state. vada is a popular South Indian dish that is frequently made at home and is an essential component of daily fare. In South India, vada is a need for the menu on special occasions, puja days, and festivals. Medu Vada is a very popular snack item that is widely available in Sri Lankan and Indian streets.
Along with chutney and sambhar, vada is a favorite dish not only among Indians but also by visitors from other nations.
Steps to prepare medu vada recipe
There are only three easy steps in this recipe. Dal is soaked, ground, then fried till crisp and fluffy. The airy batter is the secret to a crispy medu vada. The batter needs no fermentation here. The soaking and grinding of the batter is a crucial step in the preparation of vada recipe. One of the important things you need to take care is the batter consistency. The batter should be smooth, thick, and fluffy for a crispy and tasty medu vada.
Traditionally, a stone grinder called is used to grind the vadai batter. But if you have a wet grinder or mixer grinder, you can grind the batter quickly at home.
Getting the shape of the Medu vada just right is another challenging step.
Ingredients in the medu vada recipe
Urad dal – The main ingredient in this recipe is urad dal, commonly known as husked black gram.
Spices – These vadas are extremely flavorful because of the addition of spices and aromatics like curry leaves, chopped green chilies, black pepper, hing (asafoetida), and jeera (cumin seeds).
Vada variants
You could be unsure of the difference between medu vada, maddur vada, and dal vada. These are all distinct vada varieties (fritters). The medu vada is distinguished by its doughnut-like shape with a hole in the centre. These are all variations on vegetarian Indian fritters, all of which are tasty, crispy, and perennial teatime favourites.
Ingredients for medu vada recipe
Urad dal – 1 cup
Finely chopped onion – 1
Cumin seeds – ½ tsp
Crushed peppercorns – ½ tsp
Curry leaves – 1 sprig
Finely chopped green chilli – 2
asafoetida/hing – ½ tsp
Salt
Oil
Method to prepare medu vada recipe
Take 1 cup of urad dal in a large bowl.
Wash urad dal thoroughly, and soak it for 3 to 4 hours with enough water.
Try to use whole-skinned urad dal if available.
After 4 hours transfer the urad dal to a blender or a grinder and grind it into a fine paste.
Do not add too much water while grinding the batter, use a few drops of cold water to ensure smooth grinding.
The batter should be smooth and thick.
Transfer the batter to a bowl and thoroughly mix with your hand in one direction for a few minutes.
Thorough mixing will make the batter fluffy and light.
You can test the batter's fluffiness by dropping a drop of batter into a bowl of water. If the batter floats to the top, it ensures the fluffy batter.
Now add 1 finely chopped onion, ½ tsp cumin seeds, ½ tsp crushed peppercorns, 1 sprig curry leaves, 2 finely chopped green chilli, ½ tsp asafoetida/hing, ½ tsp salt and mix well.
Now for frying the vada, heat oil in a deep-bottomed pan.
Take a small portion of batter with your wet hands, place it in your palm and gently press it to form a thick, rounded vada.
To make a hole in the middle, use your thumb.
Slide the vada into the oil carefully when it reaches medium heat; add 3–4 vadas at a time.
Turn over and deep-fry both sides until they are crisp and light golden brown.
Remove the vada from the oil and drain the excess oil using tissue paper.
Medu vada is ready to serve with chutney and sambar.
Tips and tricks to prepare medu vada recipe
Avoid adding too much water when grinding the dal, since this will cause the batter to become runny and make it difficult to shape the vadas.
Avoid over-grinding the batter because it will become like a paste and may be challenging to mould into vadas. Grind it for a short while, pause, and then grind it again for a short while. Use this technique to pulverise the batter.
Add some rice flour with a few tablespoons if the batter is too thin. The batter will become thick and the vada will become crispy as a result.
To mould the vadas, use a plastic sheet or a banana leaf. Put some batter on a plastic sheet that has been lightly greased with oil, shape it into a circle, and create a hole in the centre of it.
Toss the vada gently into the heated oil after removing it off the plastic sheet and into your palm.
To ensure that the vadas are cooked uniformly, the oil should be kept at a medium-high temperature.
If the oil is very hot, the vada will immediately turn golden brown but not be fully cooked inside. Insufficient heat will cause the vada to absorb more oil.
FAQ
What is the difference between vada and medu vada?
Despite the fact that vada and medu vada are frequently used interchangeably, it is important to understand that vadas can be of any type like maddur vada, dal vada, etc. while medu vada is the one that has a hole at the center. 
Why is my vada not crispy?
Vadas that are fried in extremely hot oil will brown on the outside but not cook on the inside making the vada not crispy.
Can we put baking soda in vada?
Baking soda can be added to the batter, it will give the vada batter a fluffy texture. 
What is my vada very soggy?
What is my vada very soggy?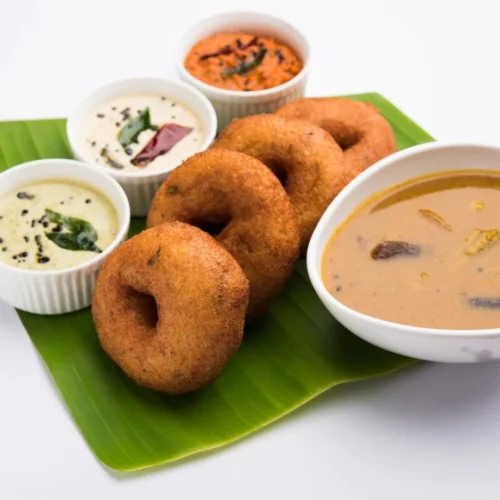 Crispy and Tasty Medu Vada Recipe
One of the most traditional delicacies in South India is the crispy and delicious Medu Vada or Indian doughnut
Ingredients
1

cup

Urad dal 

1

no

Finely chopped onion

½

tsp

Cumin seeds

½

tsp

Crushed peppercorns

1

sprig

Curry leaves 

2

no

Finely chopped green chilli

½

tsp

asafoetida/hing 

Salt

Oil
Instructions
Take 1 cup of urad dal in a large bowl

Wash urad dal thoroughly, and soak it for 3 to 4 hours with enough water

Try to use whole-skinned urad dal if available

After 4 hours transfer the urad dal to a blender or a grinder and grind it into a fine paste

Do not add too much water while grinding the batter, use a few drops of cold water to ensure smooth grinding

The batter should be smooth and thick

Transfer the batter to a bowl and thoroughly mix with your hand in one direction for a few minutes

Thorough mixing will make the batter fluffy and light

You can test the batter's fluffiness by dropping a drop of batter into a bowl of water.If the batter floats to the top, it ensures the fluffy batter

Now add 1 finely chopped onion, ½ tsp cumin seeds, ½ tsp crushed peppercorns, 1 sprig curry leaves, 2 finely chopped green chilli, ½ tsp asafoetida/hing , ½ tsp salt and mix well

Now for frying the vada, heat oil in a deep-bottomed pan

Take a small portion of batter with your wet hands, place it in your palm and gently press it to form a thick, rounded vada

To make a hole in the middle, use your thumb

Slide the vada into the oil carefully when it reaches medium heat; add 3–4 vadas at a time

Turn over and deep-fry both sides until they are crisp and light golden brown

Remove the medu vada from the oil and drain the excess oil using tissue paper

Medu vada is ready to serve with chutney and sambar