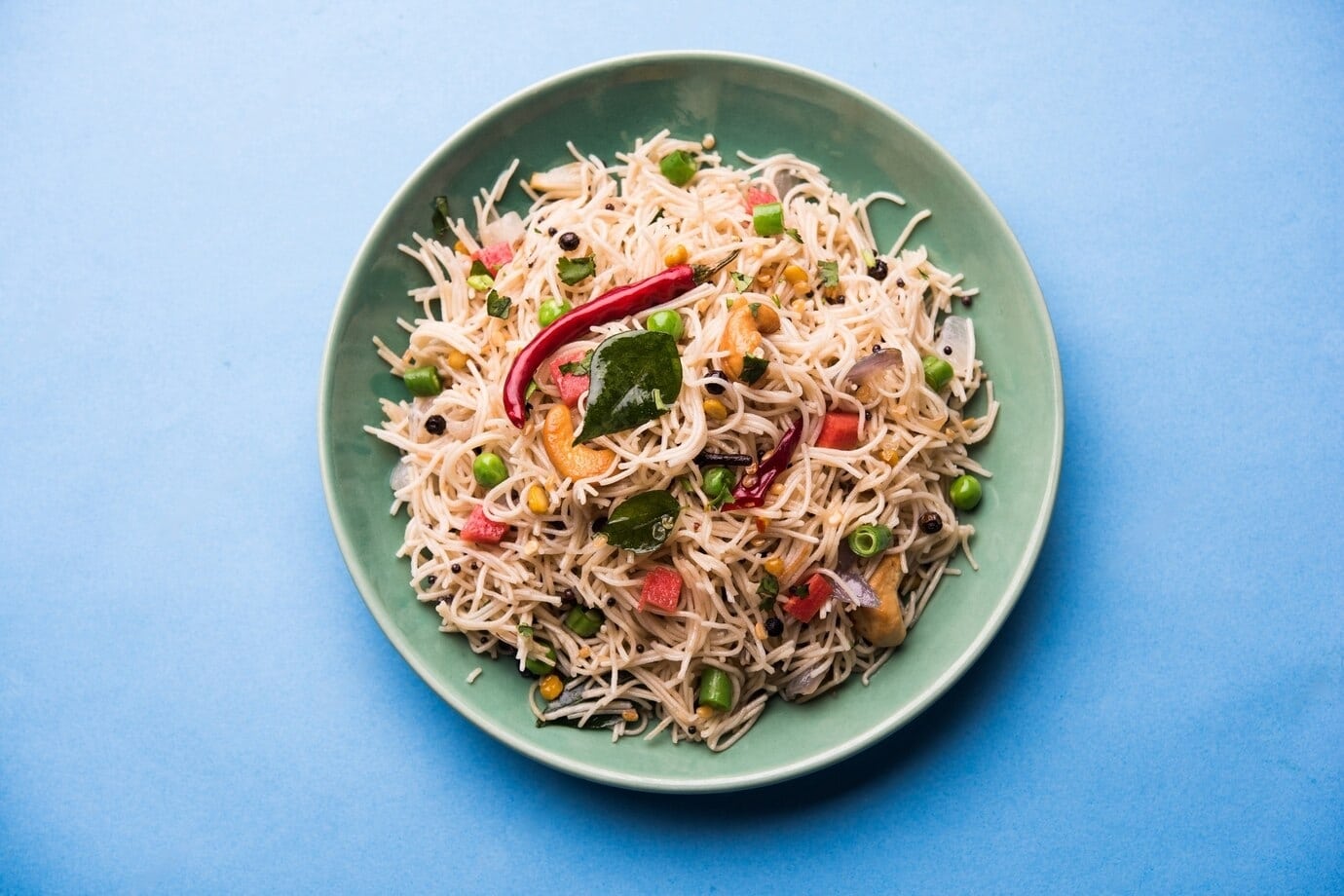 Table of Contents
About vermicelli upma
Vermicelli Upma is a simple and delicious South Indian breakfast recipe. The upma can be made in so many different ways and with so many different ingredients, but its preparation time never changes. The majority of upma meals can be made in about 30 minutes, making it a quick, easy, and wholesome breakfast alternative. Vermicelli, spices, herbs, and lentils are used to make semiya upma, also known as vermicelli upma. This dish is flavorful, aromatic, and only slightly spicy.
Addition of vegetables to vermicelli upma
The nicest part of making upma is that you may include any vegetables you like or completely exclude them, and either option will result in a delicious upma.
A traditional South Indian breakfast dish called upma is typically made with semolina/rava, curry leaves, lentils, green chilli, mustard, etc. Today, upma comes in a wide variety of forms with different main ingredients such as oats, quinoa, millets, poha, sabudana, etc.
There are numerous varieties of vermicelli prepared using a variety of grains available in the
market. You can obtain vermicelli produced from a variety of millets, including ragi, semolina, wheat flour, and rice. Wheat vermicelli is used to make the traditional semiya upma. Information on whether a product is made of wheat or semolina is clearly labelled on the packaging.
Types of vermicelli
Vermicelli comes in two varieties: roasted and unroasted. Unroasted vermicelli must be roasted before being cooked. You can buy pre-roasted vermicelli and forego the roasting process to save time.Pre-roasted vermicelli, has an entirely distinct nutty flavour.
We don't want mushy vermicelli, thus it's crucial to use the proper amount of water when creating semiya upma or vermicelli upma. When properly moistened, it becomes fluffy, non-sticky, and attractive.
Simple and wholesome breakfast dish
Breakfast is commonly referred to as "the most important meal of the day" for a good reason. It breaks the overnight fast. While refilling your supply of glucose to boost your energy and alertness, it also provides other essential nutrients required for overall health.
Due to their busy schedules, the majority of them miss breakfast. Due to its straightforward preparation and few ingredients, upma is a dish that is prepared the majority of the time in families. The greatest way to start the day is with kid-friendly upma recipes, especially for toddlers and school-age children. Vegetables can be used to provide nutrition and fillingness.
Ingredients for the preparation of vermicelli upma recipe
Vermicelli/semiya – 1 cup
Mustard seeds – ½ tsp
Urad dal – 1 tsp
Finely chopped onion – 1
Slit green chilli – 1
Finely chopped ginger – ½ tsp
Curry leaf – 1 sprig
Sugar (optional) – ½ tsp
Grated coconut (optional) – 1 tbsp
Salt
Oil
Method to prepare vermicelli upma recipe
Heat a deep-bottomed pan, as it heats add 1 tbsp oil, when the oil begins to heat add 1 cup vermicelli and roast on low flame until it turns light golden brown. Keep it aside.
You can also take roasted vermicelli instead and lightly roast them or can be used directly.
Do not overoast the vermicelli.
Now to the same pan add 2 tbsp oil or ghee, as it heats add ½ tsp mustard seeds.
When the mustard seeds begin to splutter add 1 tsp urad dal, ½ tsp finely chopped ginger and 1 sprig curry leaf and fry well.
Add 1 medium-sized finely chopped onion and fry until the onion becomes translucent.
Add 1 ½ cup water and ½ tsp salt and let it boil.
Once the water starts to boil add the roasted vermicelli and mix well.
Now, cover and cook on low flame for 5 minutes.
Cook until the vermicelli absorbs the water, stir occasionally.
Add 1 tbsp grated coconut, and ½ tsp sugar and mix well.
Gently fluff the vermicelli upma with a spatula.
Delicious and healthy vermicelli upma ready to enjoy with a hot beverage.
Tips and tricks to prepare vermicelli upma recipe
You can add cashews or peanuts for extra crunch in the vermicelli upma.
Grated coconut and sugar can be skipped in the recipe.
You can also add channa dal and cumin seeds along with urad dal.
Based on the variety of vermicelli, the ratio of water will differ. Check the package and add water accordingly.
Bell peppers, grated carrots, corn, and green beans are a few options for vegetables that can be added to the vermicelli upma.
Use any type of vermicelli, such as those made from whole wheat, rice, semolina, or ragi flour. However, keep in mind that you must add water as directed on the packaging. If you add too much water, the food will become mushy and flavorless.
The secret to making nonsticky upma is to roast it over a low temperature.
Add 1.5 cups of water to 1 cup of semiya for fluffy non-sticky vermicelli or semiya upma.
Only after the semiya has been added and the cooking liquid has been completely absorbed, fluff the upma.
Do not overcook; although it may appear sticky at first, it will separate after a few minutes of being turned off.
FAQs
What is Sevai upma?
A Popular South Indian breakfast dish called Semiya Upma is prepared with vermicelli, herbs, spices, lentils, and peanuts.
Is vermicelli breakfast healthy?
Vermicelli is a calorie-dense food that is high in carbohydrates, fat- and cholesterol-free, and low in sodium.
Is vermicelli healthy for weight loss?
Vermicelli is not a healthy meal option for weight loss because it is a high-calorie food full of simple carbohydrates.
Roasted or unroasted vermicelli better for upma?
Both varieties make amazing, fluffy, and delicious upma. With roasted upma, you can add directly to the boiling water, skipping the roasted step.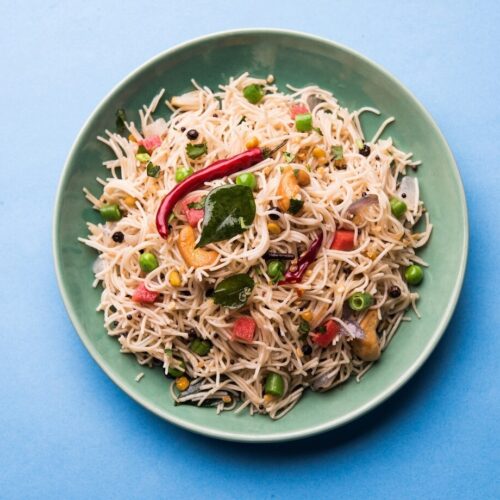 Vermicelli Upma / Semiya Upma Recipe
Vermicelli upma or semiya upma, a simple and wholesome breakfast dish to start your day
Ingredients
1

cup  

Vermicelli/Semiya  

½

tsp

Mustard seeds

1

tsp

Urad dal 

1

no

Finely chopped onion

1

no

Slit green chilli

½

tsp

Finely chopped ginger

1

sprig

Curry leaf

½

tsp

Sugar (optional)

1

tbsp

 Grated coconut (optional)

Salt

Oil
Instructions
Heat a deep-bottomed pan, as it heats add 1 tbsp oil, when the oil begins to heat add 1 cup vermicelli and roast on low flame until it turns light golden brown. Keep it aside

You can also take roasted vermicelli instead and lightly roast them or can be used directly

Do not overoast the vermicelli

Now to the same pan add 2 tbsp oil or ghee, as it heats add ½ tsp mustard seeds

When the mustard seeds begin to splutter add 1 tsp urad dal, ½ tsp finely chopped ginger and 1 sprig curry leaf and fry well.

Add 1 medium-sized finely chopped onion and fry until the onion becomes translucent

Add 1 ½ cup water and ½ tsp salt and let it boil

Once the water starts to boil add the roasted vermicelli and mix well

Now, cover and cook on low flame for 5 minutes

Cook until the vermicelli absorbs the water, stir occasionally

Add 1 tbsp grated coconut, and ½ tsp sugar and mix well

Gently fluff the vermicelli upma with a spatula

Delicious and healthy vermicelli upma ready to enjoy with a hot beverage