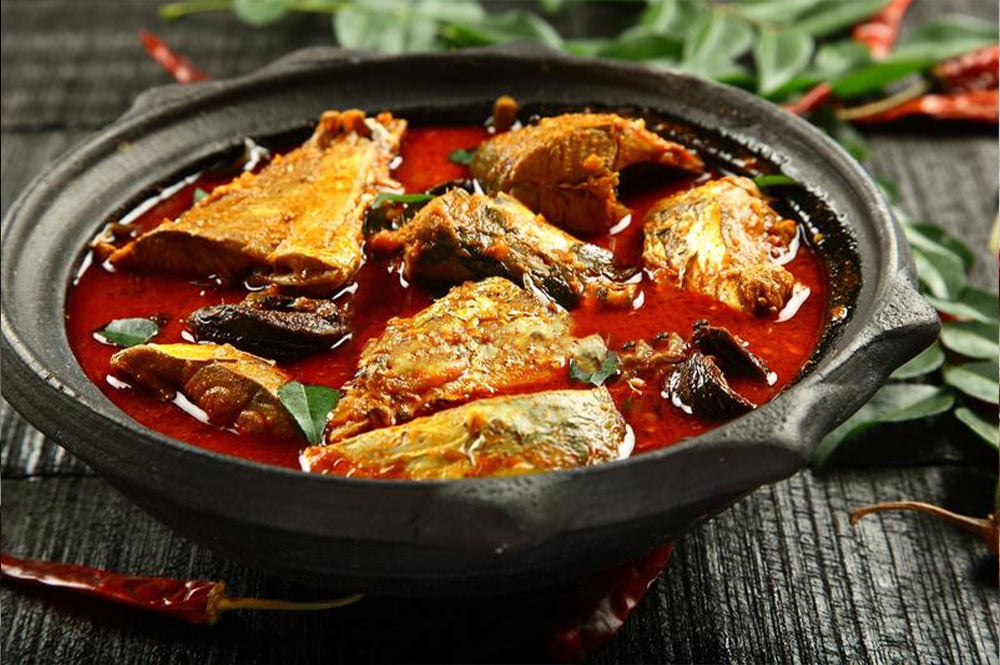 Munchi means spicy food, and puli means tangy or sour. The fish pulimunchi gravy's sour and spicy flavor is explained by this. Red chilies are added to make it spicy, and tamarind adds a sour flavor. The tamarind from Mangalore is much sourer than the one we typically find elsewhere, giving the curry a fantastic flavor and color.
The recipe is exquisite and doesn't call for any difficult preparations—after all, the best things in life are often the most straightforward. A masala paste is created with red chilies and other dry spices, and fish is cooked in this paste with tamarind pulp and water. To finish the dish, oil and curry leaves are added.
If you enjoy seafood, you will undoubtedly adore this dish. Prepare this recipe, and please share your results with us in the comments section. dish.
15 minutes to prepare, 15 minutes for cooking, Total  Duration: 30 minutes
Ingredients Required for Fish Pulimunchi:
Fish – 500gm

2 onions

2 chopped tomatoes

2 tablespoon oil

4 green chilies

1" ginger

5 cloves garlic

Tamarind juice

Salt

BON

Fish Pulimunchi Masala

– 5 tablespoon

Red chilies, coriander, pepper, cumin, turmeric, salt, and other natural spices make up BON Fish Pulimunchi Masala Powder.
Preparation for Fish Pulimunchi: 
Pick up 500 g of cleaned fish ( can be bangude also called bangda or mackerel fish or any of your favorite fish)

The fish should be thoroughly cleaned and kept ready.

2 tablespoons of cooking oil are added to a heated cooking bowl.

2 onions will now be cooked in this until they are golden brown in color.

Stir in 5 garlic cloves and 4 green chilies that have been slit.

Cook thoroughly for 5 minutes with 2 tomatoes that have been finely chopped and 2 cups of water.

Add 4 to 5 tablespoons of BON Fish Pulimunchi Masala at this point, as well as salt to taste and tamarind juice for a tangy flavor.

In the absence of tamarind, lemon juice may be used.

Add salt to taste and allow the curry to begin to boil before adding the previously prepared fish and reducing the flame.

Cook the curry for ten minutes.

Spicy and tangy The dish of Fish Pulimunchi is prepared.
Try more Fish Recipes: