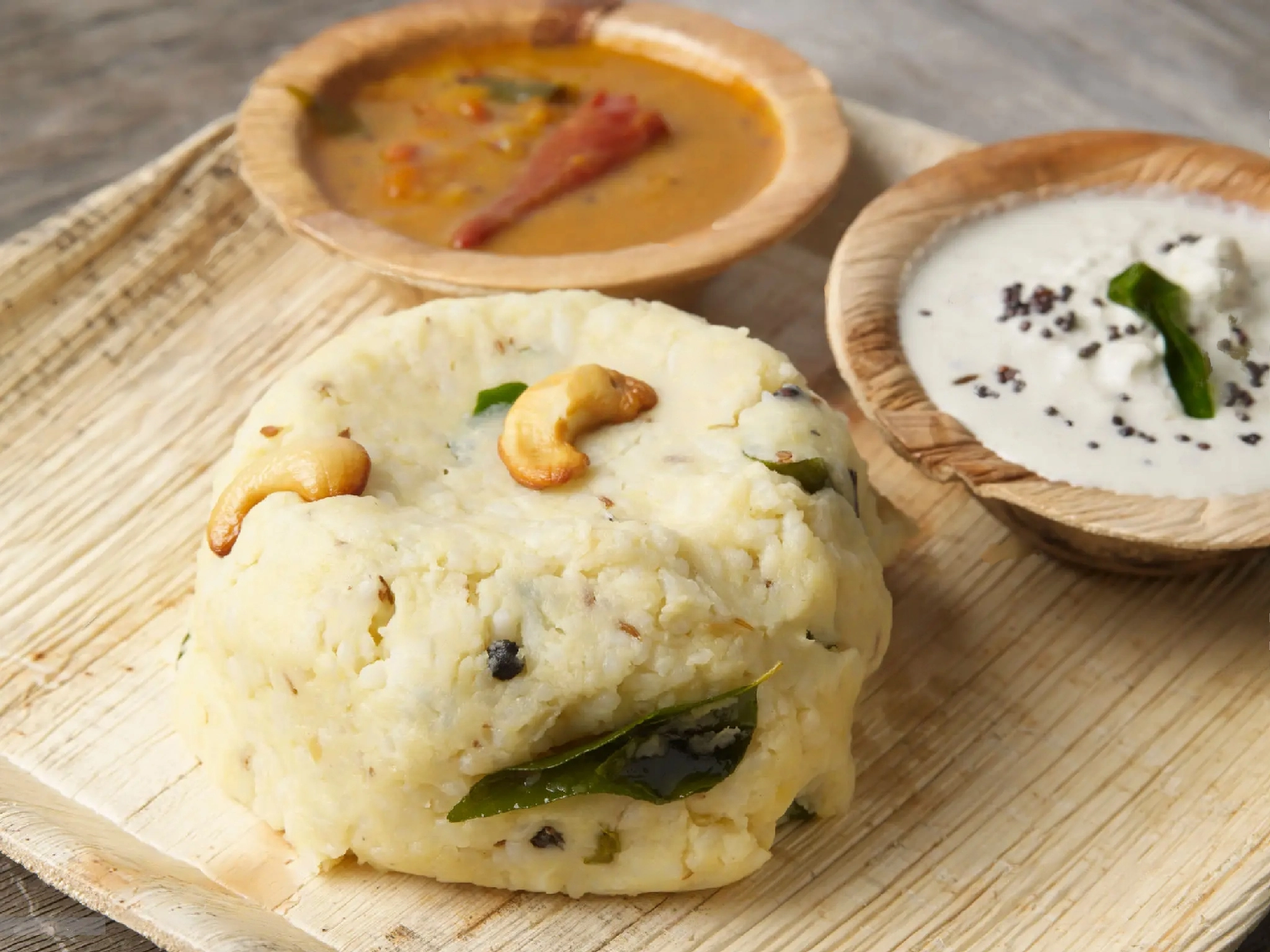 Table of Contents
About pongal
Pongal is a common South Indian meal that can be cooked either savoury or sweet using rice and moong dal. This is a comfort breakfast dish which is also enjoyed for lunch and dinner. Pongal has two variations, a sweet Pongal and khara Pongal, khara Pongal also known as ven pongal is the recipe we are trying today.
Ghee, curry leaves, black pepper, ginger, cumin, and hing are used as seasonings in khara pongal recipe. In addition to being served as naivedyam in South Indian households and temples on regular pooja, auspicious days, and festivals, this meal is incredibly flavorful and delectable.
Preparation of ven pongal
A typical South Indian dish called ven pongal is prepared using rice, split yellow moong dal, ghee, cumin, ginger, pepper, and curry leaves. In Tamil, the word "Venn" means "white," while "pongal" is a common preparation of rice and lentils. One of the dishes prepared during the four-day Pongal/Sankranti festival.
Ven pongal can be altered and prepared by adding grated coconut or vegetables of your choice to make it more nutritious and delicious. This wholesome dish can be enjoyed any time of the day and keeps you full for a longer time. An awesome lunch box menu and can be served to all age groups due to its high nutrient content. Serve the delicious ven pongal with sambar or spicy coconut chutney.
Ingredients for ven pongal recipe
Rice: Sona masoori rice is used in this recipe because it has an excellent flavour. However, you can substitute any standard medium to short-grained white rice.
Moong lentils: Husked, split, and yellow moong lentils are used to make ven pongal. Try to use fresh lentils rather than older varieties because they will cook more slowly.
Spices – Cumin, black peppercorns, curry leaves, ginger, and asafoetida are the spices and herbs that give ven pongal such a rich flavour. Do your best to include each and every one of them.
Ghee – Ghee is a crucial component that gives this dish a rich aroma.
Cashews: Nutty cashews offer a delicious crunch to the ven pongal recipe.
Importance of ven pongal during festivals
A highly well-known morning meal from the state of Tamil Nadu, Ven Pongal is generally made during Pongal, the South Indian harvest festival. This meal has savoury flavours and a very lovely texture because it is cooked in ghee. You only need a few basic ingredients and 30 minutes to cook this dinner! This rice meal not only tastes excellent for breakfast, but it may also be packed for lunch.
The harvest festival, known as Ven Pongal, is particularly important since it is thought that boiling the rice till it spills out of the pot is a ritual that should be performed every year. People make a wish for their homes' wealth of resources by doing this symbolic action.
The seasoning can be adjusted to your preferences. Ven Pongal is typically served with coconut chutney, sambar, and vadai and is a complete, balanced meal that fills the stomach. With the exception of the ghee that is applied to it on top before serving to improve flavour and taste, it is moderately spiced, and highly healthy.
The majority of temples typically provide hot, steaming pongal to the devotees after worship on the day of the Pongal festival. They come with tiny banana leaves for serving. This dish has a strong aroma that is ghee- and ven pongal-based and mildly spicy. Delicious and really irresistible! In Tamil Nadu, this dish is the second most popular breakfast item after Idli.
Ingredients for pongal recipe
Raw rice/ sona masoori – ½ cup
Yellow moong dal – ¼ cup
Green chilli – 1
Finely chopped or grated ginger – ½ tsp
Salt
For tempering
Ghee – 1 tbsp
Asafoetida / hing – ½ tsp
Cumin seeds – ½ tsp
Peppercorns – 1 tsp
Curry leaves – 1 sprig
Cashew nuts – 1 tbsp
Method to prepare pongal recipe
Dry roast ¼ cup of moong dal until it becomes light brown and keeps it aside.
To the yellow moong dal, add ½ cup Sona masoori rice and wash the grain well and drain.
To a pressure cooker transfer dal and rice add ½ tsp salt, 1 green chilli and 3 cups water and pressure cook for 5 to 6 whistles on medium flame.
Once the pressure cools down remove the lid and gently mash and mix the rice and dal well.
Add ½ tsp finely chopped or grated ginger and mix well.
Add ½ cup of warm water to the Pongal if it is very thick and mix well.
For tempering
Heat a tempering pan, add 1 tbsp ghee as it heats add 1 tsp peppercorns, ½ tsp cumin seeds, and 1 tbsp cashew nuts and fry well.
Add 1 sprig of curry leaves, and ½ tsp asafoetida/hing and fry well.
Pour the tempering into the Pongal and mix well.
Top it with 1 tsp ghee and serve warm with sambar or coconut chutney.
Tips and tricks to prepare Ven Pongal Recipe
Rice and dal ratio can be taken in equal amounts to make the dish filling and wholesome.
Addition of ghee is necessary to bring out the authentic flavours in the ven pongal recipe.
Whole Peppercorns give the pongal its spice touch, do not skin peppercorns in the recipe.
You can soak the rice and dal for 15 minutes before pressure cooking.
You can also prepare the pongal recipe in a pan on a stovetop.
If the pongal becomes too thick, add warm water to adjust the consistency.
Addition of green chilli is optional.
Moong dal can be substituted with any other variety of preferred dal, or along with moon dal, you can incorporate any other kind of dal to make pongal high in protein content.
FAQs
What is Ven Pongal made of?
A typical South Indian dish called ven pongal is prepared using rice, split yellow mung dal, ghee, cumin, ginger, pepper, and curry leaves.
What are the two types of Pongal?
The two types of pongal are ven pongal, which is savoury and cooked with clarified butter, and chakarai pongal, which is sweet.
Can ghee be substituted in ven pongal recipe?
Ghee brings out the rich aroma and texture to the recipe, but if you are restricted from consuming ghee, you can substitute it with any oil of your choice.
Can we add vegetables to ven pongal recipe?
You can add vegetables like carrots, beans, green peas etc to the recipe.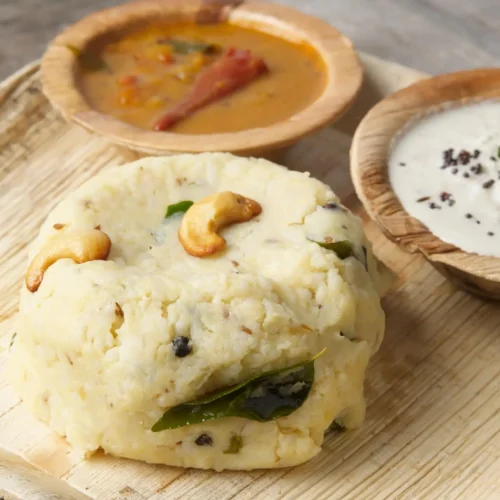 Ven Pongal Recipe – South Indian Speciality
Ven pongal, a simple and wholesome breakfast dish known for its flavours, aroma and taste
Ingredients
Ingredients for Pongal Recipe
½

cup

Raw rice/ sona masoori

¼

cup

Yellow moong dal

1

no

Green chilli

½

tsp

Finely chopped or grated ginger

Salt
For tempering
1

tbsp

Ghee

½

tsp

Asafoetida / hing 

½

tsp

Cumin seeds 

1

tsp

Peppercorns

1

sprig

Curry leaves

1

tbsp

Cashew nuts
Instructions
Method to Prepare Pongal Recipe
Dry roast ¼ cup of moong dal until it becomes light brown and keeps it aside

To the yellow moong dal, add ½ cup Sona masoori rice and wash the grain well and drain

To a pressure cooker transfer dal and rice add ½ tsp salt, 1 green chilli and 3 cups water and pressure cook for 5 to 6 whistles on medium flame

Once the pressure cools down remove the lid and gently mash and mix the rice and dal well

Add ½ tsp finely chopped or grated ginger and mix well

Add ½ cup of warm water to the Pongal if it is very thick and mix well
For Tempering
Heat a tempering pan, add 1 tbsp ghee as it heats add 1 tsp peppercorns, ½ tsp cumin seeds, and 1 tbsp cashew nuts and fry well

Add 1 sprig of curry leaves, and ½ tsp asafoetida/hing and fry well

Pour the tempering into the Pongal and mix well

Top it with 1 tsp ghee and serve warm with sambar or coconut chutney