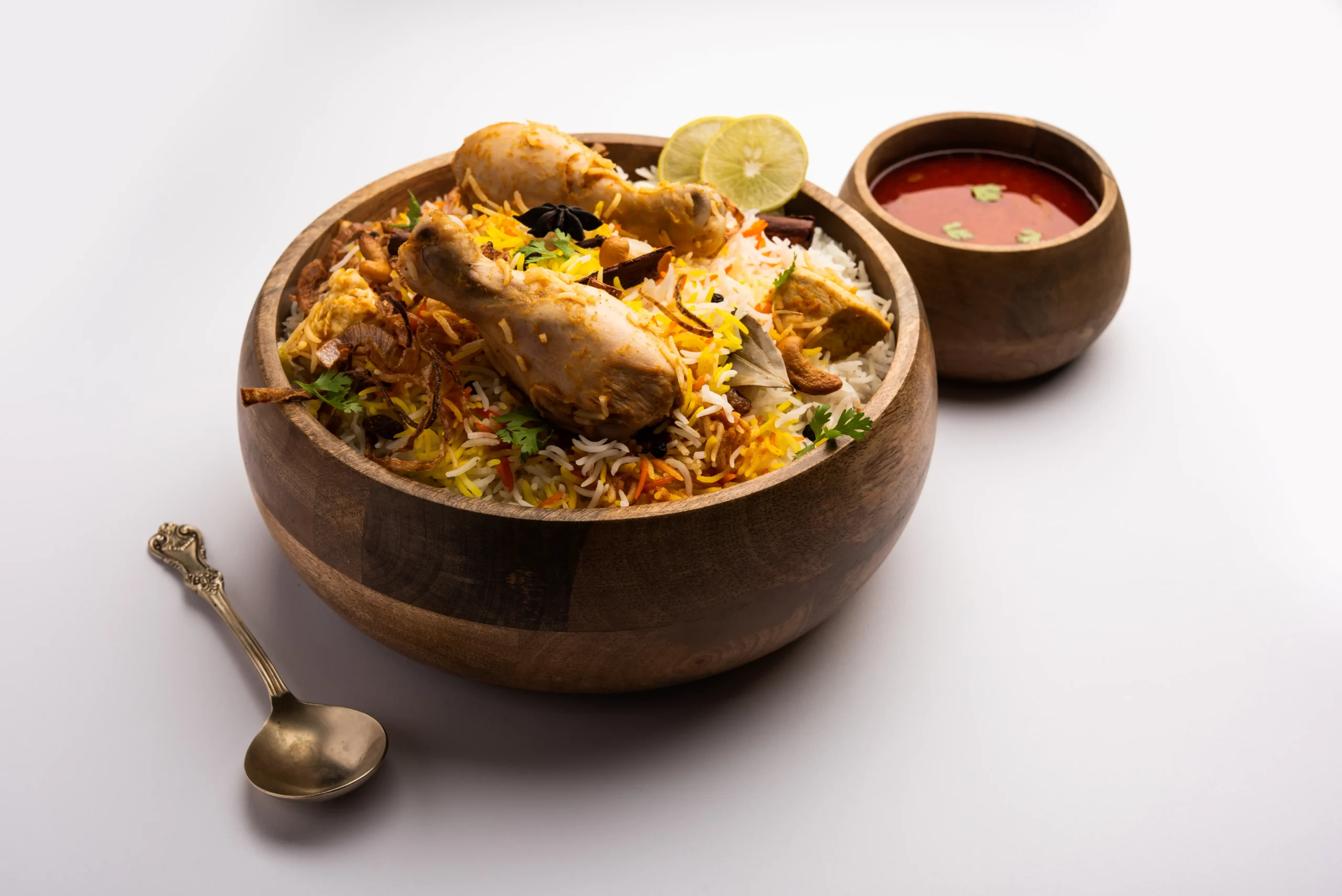 Table of Contents
The recipe for chicken biriyani
The delicious savoury rice dish known as chicken biriyani has saffron-flavored rice, caramelised onions, and spicy marinated chicken. While reducing the steps, the traditional layered assembly approach is used to make this Chicken Biryani. Layers of chicken, rice, and aromatics are steamed to create the rice and chicken dish known as chicken biryani. The secret ingredient in the chicken biryani recipe is whole, juicy chicken parts that have been marinated in a delectable concoction of herbs, spices, and aromatics.
A classic pairing of rice and chicken
Chicken and rice is a classic pairing that has inspired culinary customs all across the world. It makes sense that earlier in human history, this staple grain would have been combined with a domesticated source of protein. But the fact that this combination is still a favourite among consumers today speaks volumes about its irresistible flavour.
The chicken is marinated in a fiery mixture of garam masala, garlic, ginger, green chilli, coriander leaves, and garlic before being cooked in the Chicken Biryani recipe. When the chicken is fried, the seasonings and aromatics on its exterior caramelise to form a delicious crust. In order for the fried onions to properly caramelise into a sweet, umami-rich coating that contrasts with the other flavours, it is better to prepare them separately.
savoury, spicy chicken. The rice is quickly parboiled with whole spices like bay leaves, and cardamom to add flavour and ensure that it will be sufficiently soft to steam when the Biryani is assembled.
The most crucial steps in the creation of a chicken biryani recipe
By par-boiling the rice first, this Chicken Biryani recipe can be steam-cooked as opposed to boiled. As a result, the chicken becomes moist and soft. The umami and little sweetness of properly caramelised fried onions make them an excellent balance to the flavour and heat of the chicken.
Ingredients for chicken biriyani recipe
Chicken – For the most flavorful chicken, it is best to use bone-in, skin-on chicken parts like thighs or drumsticks. Breast meat will work in a pinch due to the longer cooking time, but it won't be as flavorful and will get dry.
Aromatic ingredients: Ginger garlic paste, herbs, and spices are used to marinade the chicken. While the chicken steams, all of these spices are released into the rice.
Herbs – Fresh herbs, such as coriander and mint, are preferable to dried ones when used in the marinade for the chicken. A few extras should be chopped up because they also make a lovely garnish for the Chicken Biryani.
Spices – Use ground spices like garam masala and ground cinnamon in the marinade for the chicken. If you can find it, biryani masala also works fantastically. Use whole spices such as
Include whole spices in the rice, such as bay leaves, and green cardamom. Add some star anise or cloves occasionally. The rice's golden colour is imparted by saffron, but if you can't find any, turmeric will do.
Fried onions – Along with chicken and rice, fried onions are the third component of biryani.
Ghee – Clarified butter that has had the water and milk proteins removed is known as ghee. For this reason, it is often referred to as "clarified butter."
Spice quotient – Red chilli powder can be used instead of fresh green chillies, which is generally used in a marinade for the chicken to give the dish some heat.
Rice – Long-grain rice like basmati should always be used to make biryani. 
Ingredients for the preparation of chicken biriyani
Chicken pieces – 500g
Garlic bulbs – 6
Ginger – 1 – inch
Green chilli – 2
Chopped mint leaves – 1 cup
Chopped coriander leaves – 1 cup
Garam masala – 1 tbsp
Biriyani masala – 1 tbsp
Turmeric powder – ½ tsp
Curd – ½ cup
Basmati rice – 2 cups
Green cardamom – 4
Bay leaf – 1
Sliced onions – 2
Saffron strands – few
Ghee
Salt
Method to prepare chicken biriyani recipe
In a blender take 6 garlic bulbs, 1-inch ginger, 2 green chilli, ½ cup chopped mint leaves, ½ cup coriander leaves and grind them into a fine paste with the required amount of water.
Wash and drain 500g chicken pieces, add the marinated mixture, add 1 tbsp garam masala, 1 tbsp biriyani masala, ½ tsp turmeric powder,  ½ curd and mix well.
Let it marinate for around 30 to 40 minutes.
Add 1 tbsp ghee to a deep-bottomed pan,  and add 1 medium-sized thinly sliced onion to cook the onions until they are nicely caramelised (15-20 minutes). Place the bowl with the caramelised onions aside.
Prepare the rice by rinsing it in a strainer under cold running water until the water is clear while the onions are browning.
Rice should be par-boiled by adding 2 cups of rice in boiling water,½ tsp salt, 4 cardamoms, and 1 bay leaf in a pot. Boil the rice for 7 minutes after adding it, drain the rice and keep it aside.
Add the marinated chicken in a single layer to the thick-bottomed saucepan Fry the chicken till golden brown and until it is half cooked with the required amount of salt.
Now soak a few strands of saffron in warm milk.
Layer the rice on top of the chicken, sprinkle ½ cup coriander leaves, ½ cup chopped mint leaves, caramelised onion, drizzle saffron-soaked milk and add 2 to 3 tbsp ghee on the edges and at the centre.
The pot should be covered with a lid, placed over medium heat, and timed for 20 minutes. When steam begins to appear beneath the lid, reduce the heat to low, cook for an additional few minutes, until the timer sounds, and then turn off the heat.
Set the timer for a further 10 minutes to steam the biryani without lifting the lid.
Transfer the chicken biryani to a plate after thoroughly mixing it.
Enjoy the chicken biriyani with raita.
Tips and tricks to prepare chicken biriyani recipe
When you go shopping, make sure you buy basmati rice rather than just long-grain rice. Basmati rice has slightly smaller, more fragrant grains than long-grain rice. Real basmati rice is what gives biryani its distinct flavour and flavour.
For even heat distribution, a sizable "tawa" placed underneath the pot will ensure even heat distribution.
FAQ's
What makes biryani tastier?
The two best techniques to give your Biryani the ideal scent and flavour are by using saffron and ghee.
How can I improve the flavour of my chicken biryani?
Chicken or mutton should be marinated overnight in order to make biryani. This enhances the flavour and taste of the food.
What is the reason for turning biriyani dry?
Inadequate steam. Many people complain that their biryani is way too dry. Getting the steam exactly right is crucial. A sizable "tawa" placed underneath the pot will ensure even heat distribution.
Which rice is best for biryani?
Basmati rice is the most widely used variety for biryani. It is the favoured option for biryani because of the long grains, non-stickiness, aroma, soft texture, fluffy, and separate grains when cooked.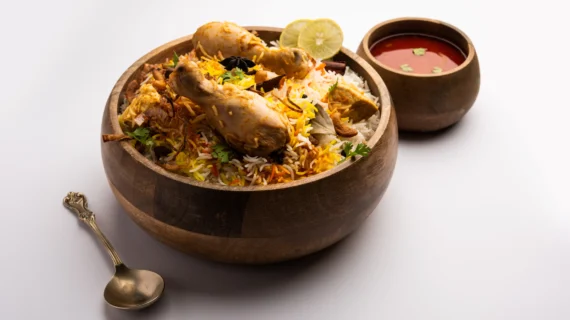 Classic Chicken Biriyani Recipe
A traditional Chicken Biryani recipe with simple, straightforward directions and delectable. The secret ingredient in the chicken biryani recipe is whole, juicy chicken parts that have been marinated in a delectable concoction of herbs, spices, and aromatics.
Ingredients
500

g

Chicken pieces

6

no

Garlic bulbs

1

inch

Ginger

2

no

Green chilli 

1

cup

Chopped Mint Leaves

1

cup

Chopped coriander leaves

1

tbsp

Garam masala

1

tbsp

Biriyani masala 

½

tsp

Turmeric powder

½

cup

Curd

2

cups

Basmati rice

4

no

Green cardamom 

1

no

Bay leaf

2

no

Sliced onions

Few

no

Saffron Strands

2

tbsp

Ghee

Salt
Instructions
In a blender take 6 garlic bulbs, 1-inch ginger, 2 green chilli, ½ cup chopped mint leaves, ½ cup coriander leaves and grind into a fine paste with required amount of water

Wash and drain 500g chicken pieces, add the marinate mixture, add 1 tbsp garam masala, 1 tbsp biriyani masala, ½ tsp turmeric powder,  ½ curd and mix well

Let it marinate for around 30 to 40 minutes

Add 1 tbsp ghee to a deep bottomed pan,  and add 2 medium sized thinly sliced onions to a cook the onions until they are nicely caramelised (15-20 minutes)

Rice should be par-boiled by adding 2 cups of rice in a  boiling water,½ tsp salt, 4 cardamoms, 1 bay leaf in a pot. Boil the rice for 7 minutes after adding it, drain the rice and keep it aside

Add the marinated chicken in a single layer to the thick bottomed saucepan Fry the chicken till golden brown and until it is half cooked with required amount of salt

Now soak few strands of saffron in warm milk

Layer the rice on top of the chicken, sprinkle ½ cup coriander leaves, ½ cup chopped mint leaves, caramelised onion, drizzle saffron soaked milk and add 2 to 3 tbsp ghee on the edges and at the centre

The pot should be covered with a lid, placed over medium heat, and timed for 20 minutes

When steam begins to appear beneath the lid, reduce the heat to low, cook for an additional few minutes, until the timer sounds, and then turn off the heat

Set the timer for a further 10 minutes to steam the biryani without lifting the lid

Transfer the chicken biryani to a plate after thoroughly mixing it

Enjoy the chicken biriyani with raita
FAQs