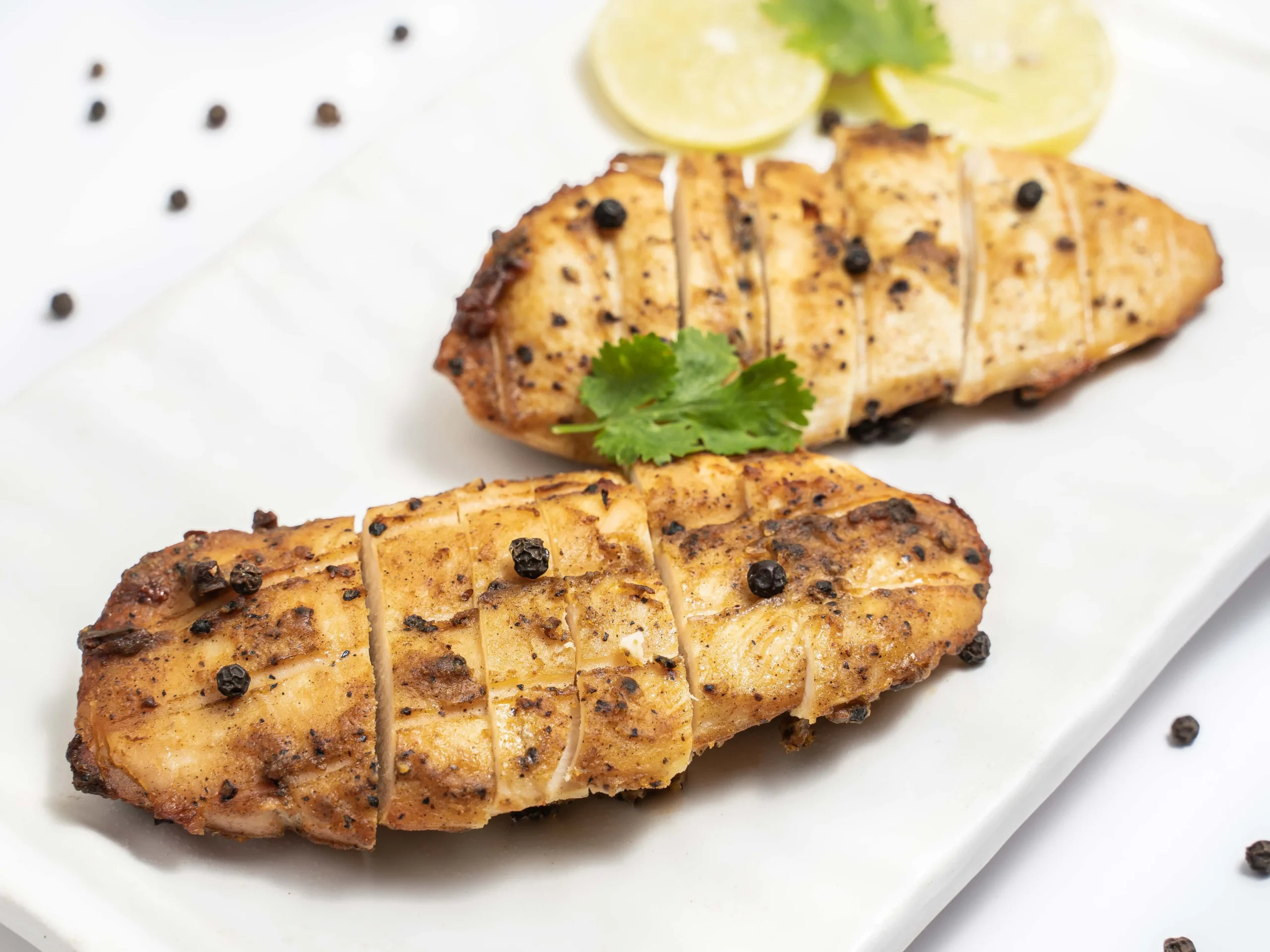 Table of Contents
In most the fridge, chicken thighs are the go-to meat. They are not only more flavorful than breast meat, but they are also more affordable, more adaptable, and quick to prepare as a meal. This black pepper marinated chicken that you just roast in the oven or grill is one of no one has ever been disappointed by the flavours of pepper grilled chicken, and it always comes out excellent.
For those of you who prefer breast meat, you can use bone-in, skin-on chicken thighs in place of the breast meat in this recipe.
Try boneless chicken thighs with the skin if you don't like eating chicken that has been cut off the bone.
The ideal summer grilling meal is this pepper grilled chicken. Lemon, garlic, and onion flavours are infused throughout the juicy chicken to make the dish delightful and keep you going back for more.
Flavours in Pepper Grilled Chicken
The wonderful lemon pepper marinate is left on the lemon chicken for the entire night. The sweetness and tartness are in perfect proportion, and the lemon flavor is barely detectable. The chicken cooked up flawlessly and was incredibly juicy and delicious with the proper amount of flavor.
Grilling is the easiest summertime activity there is! You can have dinner ready in about 30 minutes if you marinate some meat and vegetables and fire up the grill!
The marinate is very simple and can be used to grill both vegetables and meat.
Here we have a recipe to grill chicken and grilled paneer to suit your taste buds.
Both recipes are simply healthy and delicious and can be enjoyed any time of the day.
Ingredients for Pepper Grilled Chicken
Chicken thigh-leg pieces- 4
For marination
Thinly sliced onion – 1
Ginger – 1- inch
Garlic bulbs – 4
Chopped tomatoes – 1
Chicken pepper grill – 2 tsp
Chopped coriander leaves – ¼ cup
Mint leaves – 2 tbsp
Lemon juice – 1 tbsp
Salt – ½ tsp
Method to prepare Pepper Grilled Chicken
All the marinade components like 1 thinly sliced onion, 1-inch ginger, 4 garlic bulbs, 1 chopped tomato, ¼ cup chopped coriander leaves, 2 tbsp mint leaves should be placed in a blender.
Use just a little water as you ground it into a thick paste.
Take 4 chicken thigh-leg pieces, add the marinade mixture, 2 tsp chicken pepper grill powder, 1 tbsp lemon juice – ½ tsp salt and mix well.
Refrigerate the chicken for at least an hour or marinate it overnight with plastic wrap covering it.
Prepare the grill by coating it with nonstick cooking spray.
Spray the chicken with oil, then place it on a grill set to medium heat.
Spray cooking spray on the opposite side, flip it over, and allow it to cook.
Grill till golden brown on both sides.
While the chicken is grilling, you may also drizzle some lemon juice over it.
Avoid over-grilling to avoid the chicken becoming dry.
Remove the chicken from the grill once it is well cooked and has a golden brown hue.
Serve with your preferred salad.
Pepper Grilled Chicken in oven
Use your oven for baking this if you don't have a grill.
Place the marinated chicken on a baking sheet that has been coated with cooking spray and lined with aluminum foil.
Set the oven to 375°F.
Bake for 45 minutes total with the baking sheet inside the oven.
After the first 20 minutes of baking, then bake again for an additional 25 minutes, after spraying cooking spray on the chicken.
You might even add a little lemon juice.
Even better, add some lemon juice right before taking it out of the oven.
Tips and tricks to prepare Pepper Grilled Chicken
If you want your food spicy, add extra ground pepper to the chicken since the marinade wasn't particularly hot.
You can use ginger-garlic paste in the recipe; it's a common ingredient in Indian cuisine.
You can add vegetables of your choice like mushrooms, cherry tomatoes, etc to the grilled vegetables.
Pepper grilled chicken marination is very important to get the juicy pepper flavours in the kitchen.
You can also grill paneer and vegetables first with little oil and then combine the spice marinade mix to it.
Just toss the vegetables and paneer in the spice mix and enjoy it with some stir-fried noodles or rice.
Any food can be spiced by using some chaat masala spice blend. It tastes extremely nice when sprinkled over pakoras or sliced cucumber and tomato. The chaat masala can be prepared in bigger quantities and kept on hand whenever you need it.
FAQ's
Should grill be oiled before grilling?
Before cooking, the grill grates should be greased. The oil will ensure improved and optimal performance, which is the cause for this. Additionally, you'll be able to turn your food with ease and grill it with those typically pleasing cross-hatched grill markings.
How long does the chicken need to cook on grill?
The chicken must have enough time to fully cook inside without scorching on the outside.
How can paneer be kept off the grill without sticking?
Add some oil to the marinade, completely pre-oil the grilling grates, and wait until the paneer has started to brown before touching it to further prevent sticking.
Which oil is ideal for seasoning a grill?
Grill manufacturers frequently advise using canola or peanut oil because both have smoke points that are higher than 450° F. Additional choices include vegetable oil, sunflower oil, and avocado oil.
Recipe Card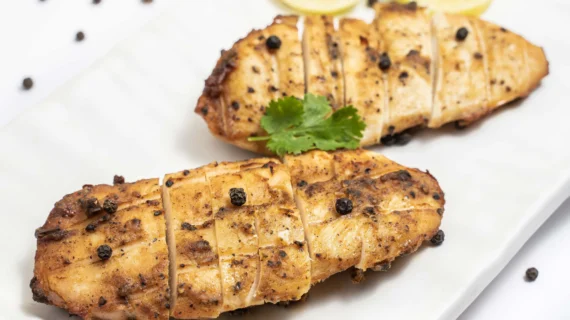 Pepper Grilled Chicken Recipe – Healthy & Delicious
Grilled chicken and grilled paneer are 2 simple flavorful dishes that can be enjoyed with minimum ingredients
Ingredients
Ingredients for Pepper Grilled Chicken
4

no

Chicken thigh leg pieces
For Marination
1

no

Thinly sliced onion

1

inch

Ginger

4

no

Garlic Bulbs

1

no

Chopped Tomatoes

2

tsp

Chicken Pepper Grill

¼

cup

Chopped Coriander Leaves

2

tbsp

Mint Leaves

1

tbsp

Lemon Juice

½

tsp

Salt
Instructions
Method to prepare Pepper Grilled Chicken
All the marinade components like 1 thinly sliced onion, 1-inch ginger, 4 garlic bulbs, 1 chopped tomato, ¼ cup chopped coriander leaves, 2 tbsp mint leaves  should be placed in a blender

Use just a little water as you ground it into a thick paste

Take 4 chicken thigh-leg pieces, add the marinade mixture, 2 tsp chicken pepper grill powder, 1 tbsp lemon juice – ½ tsp salt and mix well

Refrigerate the chicken for at least an hour or marinate it overnight with plastic wrap covering it

Prepare the grill by coating it with nonstick cooking spray

Spray the chicken with oil, then place it on a grill set to medium heat

Spray cooking spray on the opposite side, flip it over, and allow it to cook

Grill till golden brown on both sides

While the chicken is grilling, you may also drizzle some lemon juice over it

Avoid over-grilling to avoid the chicken becoming dry

Remove the chicken from the grill once it is well cooked and has a golden brown hue

Serve with your preferred salad
Pepper Grilled Chicken in oven
Use your oven for baking this if you don't have a grill

Place the marinated chicken on a baking sheet that has been coated with cooking spray and lined with aluminum foil

Bake for 45 minutes total with the baking sheet inside the oven

After the first 20 minutes of baking, then bake again for an additional 25 minutes, after spraying cooking spray on the chicken

Even better, add some lemon juice right before taking it out of the oven