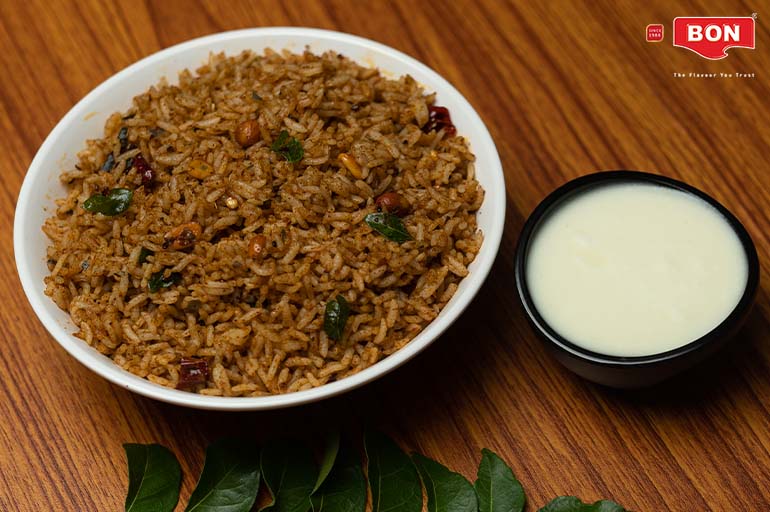 Table of Contents
About Puliyogare rice
The tangy-spicy South Indian rice variant known as puliyodharai / puliyogare, also known as tamarind rice, is popular for its extended shelf life and versatility as a travel food. Puliyogare is the best option if you're travelling on a picnic or a long journey and require food that can keep fresh without being refrigerated. However, you can enjoy this wonderful rice every day of the week and throughout the year. Using leftover grainy rice from pressure-cooked rice is a fantastic method to prepare this. For lunch or dinner, serve Puliyodharai / Puliyogare Recipe with raita of your choosing.
Puliyogare rice preparation
One of the traditional South Indian neivedhyam dishes, puliyogare is made during festivals or whenever you want to make something in a hurry. something quickly, when you don't have any vegetables on hand, or when you need to put together a lunchbox quickly!! Yes, friends, creating this quick, easy, and delicious variation of rice called "Puliyogare" takes only a few minutes if you already have cooked rice and the Puliyogare mix available. One of all-time favourites this dish is tangy and spicy!
Although it's fairly simple to make, most people grumble that their puliyogare doesn't taste as well as the ones served in temples.Temple prasadams are absolutely delicious. You would go to temples specifically for these prasadams. The recipe given today has a flavour that is remarkably similar to temple-style puliyogare.
Iyengar-style Puliyogare is undoubtedly the greatest. It is typically prepared in three steps. Making puliyogare gojju, making this powder, and finally making tamarind rice, with this gojju.
Variations in puliyogare rice
The method of making Puliyogare differs from region to region, and it is known by several names in various states, including Puliyogare, Puliyodharai, Pulihora, and Tamarind Rice. The final flavour likewise changes depending on the place in which it is prepared.
When preparing this recipe, adding black sesame and raw sesame oil makes a huge impact. Additionally, the additional roasted dal pepper powder adds a different flavour. Furthermore, excellent Puliyogare The foundation of a delicious puliyogre is gojju! Simply combine pre-made gojju and add the tempering to the cooked rice to make tamarind rice. Finally, copra that has been grated and powdered toasted sesame seeds can be added. Enjoy with papad or curd for the ultimate comfort food!
Puliyogare powder
This powder mixture is ready to eat. Simply combine it with cooked rice to make delectable. Two different recipes are used in Karnataka. like the most famous Iyengar-style puliyogare This particular recipe is used throughout the Karnataka region of Bengaluru, Mysuru, and Tumkur. We can also include some toor dal and cashews to it.
Simply said, puliyogare mix or masala in a powdered or pasted form. Both mixtures are delectable. It can be prepared at home or purchased from a store.
The puliyogare mix in powder form needs to be combined with a few teaspoons of heated oil before being combined with steamed or cooked rice. In contrast, the paste version of this mix can be combined with either hot or room-temperature rice.
If homemade, this puliyodharai combination can be kept in the refrigerator for about a month; if purchased, it can be kept until the expiration date.
Puliyogare recipe variants
There are numerous Puliyogare varieties, including Temple Puliyodharai, Iyengar Puliyodharai, Melkote Puliogare, Udupi Puliyodharai, and Chettinad Puliyodharai, Andhra style pulihora.
The few basic ingredients like mustard, channa dal, urad dal, and curry leaves are frequently found in any kitchen make this tamarind rice recipe ideal for a quick lunchbox fix.
Ingredients for the preparation of puliyogare rice
Oil – 2 tbsp
Mustard seeds – ½ tsp
Urad dal – ½ tsp
Channa dal – ½ tsp
Peanuts – 2 tbsp
Curry leaves – 1 sprig
Dried red chilli – 1
Cooked rice – 2 cups
Puliyogare powder – 2 tbsp
Salt
Method to prepare Puliyogare Rice 
1. Heat a deep-bottomed pan, as it heats add 2 tbsp oil, and ½ tsp mustard seeds.
2. Add BON Puliyogare mix powder and heat in oil.
3. Now add 2 cups of cooked rice and mix well.
4. Add salt if needed and mix well.
5. Enjoy the tangy puliyogare rice with raita or plain curd. 
Tips and tricks for puliyogare rice recipe
You may make puliyogare rice using leftover rice or you can create tamarind rice from start using freshly prepared rice.
Basmati rice is acceptable. However, puliogare tastes better when made with sona masoori or ponni rice.
You may easily find the best pre-made powder and paste mixtures in your neighbourhood department stores or supermarkets.
They are typically packaged in little packages weighing between 50 and 500 grams.
The only ingredient in Puliyogare Gojju is Puliogare paste. Typically, either homemade or store-bought paste is used. using the freshly created gojju, which still retains its full flavour and scent.
When making this gojju/paste or powder, the main ingredients are the same.
Making this paste or a powder mixture are the two methods used to produce the Udupi Puliyogare. After that, it is immediately combined with cooked rice and served.
Jaggery, sesame seeds, and grated or chopped dry coconut are all ingredients in the Udupi style tamarind rice.
Other breakfast recipes to try – Goli Baje, Mangalore buns
Puliyogare Rice Recipe
This classic South Indian dish is enhanced with a tangy traditional mixture of tamarind and several spices
Ingredients
2

tbsp

Cooking Oil

½

tsp

Mustard seeds

½

tsp

Urad dal

½

tsp

Channa dal

2

tbsp

Peanuts

1

sprig

Curry leaves

1

Dried

Red chilli

2

cup

Cooked rice

2

tbsp

Puliyogare powder

Salt
Instructions
Heat a deep-bottomed pan, as it heats add 2 tbsp oil, ½ tsp mustard seeds as the mustard seeds begin to splutter add ½ tsp chana dal, ½ tsp urad dal, 2 tbsp peanuts, and roast well

Add 1 dried red chilli and 1 sprig of curry leaves and fry well

Add 2 tbsp puliyogare powder and mix well

Now add 2 cups of cooked rice and mix well

You can switch off the flame and mix the rice with puliyogare masala with your hands

Add salt if needed and mix well

Enjoy the tangy puliyogare rice with raita or plain curd
Video
FAQ's
What Is Puliyogare rice?
A tangy-spicy South Indian rice variant called puliyogare, often known as tamarind rice, is prized for its long shelf life and versatility as a portable meal. Additionally, this dish is high in protein and fibre.
How long puliyogare rice can be stored?
Puliyogare rice can be stored for 2 days.
Which rice is best for puliyogare rice recipe
Sona masoori or ponni rice is best for puliyogara rice recipe.
How long puliyogare rice powder last?
If the puliyogare rice is store bought, you can use it until the expiry date.